Vance Center Co-Authors Policy Brief on Judicial Nominations in Guatemala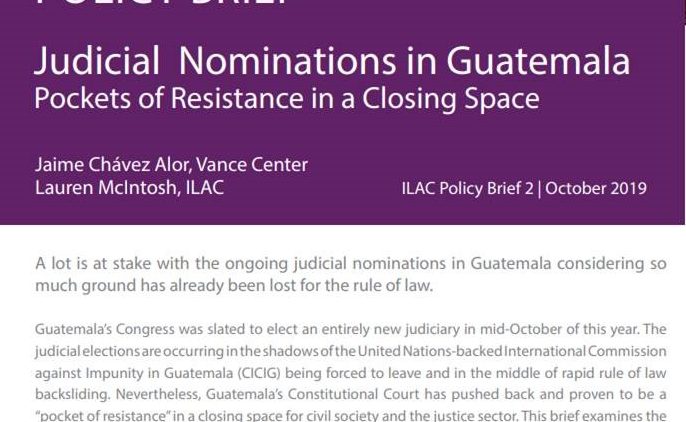 (Policy Brief cover page)
Vance Center Latin America Policy Manager Jaime Chavez Alor has co-authored the newest International Legal Assistance Consortium's policy brief on judicial nominations in Guatemala.
The brief examines the judicial nominations process and provides recommendations for making it more fair and impartial. A delegation of the Vance Center's Lawyers Council for Civil and Economic Rights undertook an assessment of the judicial appointment process in Guatemala last summer.  The Vance Center will release a report of the delegation soon.
ILAC, a consortium of more than 50 legal organizations from all over the world, brings together their collective expertise to help rebuild justice systems in countries transitioning from conflict to peace and democracy. The Vance Center has participated since 2013, and Programs Director Marie-Claude Jean-Baptiste serves on ILAC's advisory council.
Download the policy brief here.