Lawyers Council Focuses on Judicial Appointments in Guatemala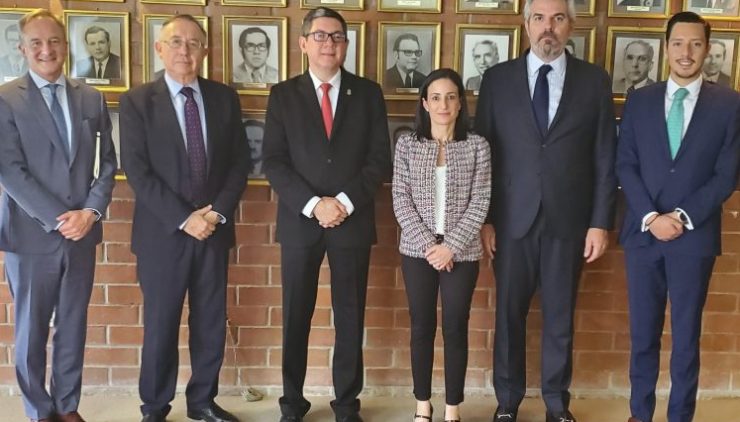 (Lawyers Council Delegation in Guatemala | Photo credit: Jaime Chavez Alor) 
A delegation of the Lawyers Council for Civil and Economic Rights undertook an assessment of the judicial appointment process in Guatemala, following on a similar effort in Peru. Delegates met with Guatemalan civil society organizations, members of the judiciary, the Association of Judges for Integrity, officers of the Guatemalan Bar Association, media representatives, and partners of principal law firms to gather information and offer recommendations on the ongoing process.
Lawyers Council members Todd Crider (Simpson Thacher and Vance Center Executive Sub-Committee Committee), Vivian Liberman (BLP Abogados, Costa Rica), Carlos Del Río (Creel, García-Cuéllar, Aiza y Enriquez, México, and Hernán Perez Loose (Coronel y Perez, Ecuador) constituted the delegation, supported by Vance Center Latin America Policy Manager Jaime Chavez Alor.
The delegates presented a document outlining international standards, comparative experience, and specific recommendations regarding how the Nomination Commissions can evaluate candidates to ensure a transparent and participatory process. The Guatemalan counterparts expressed particular appreciation for the attention and support of practicing lawyers from other countries in the Americas.
The Lawyers Council soon will release a report on its findings and further recommendations, based on the delegation, as well as ongoing events in Guatemala.  This undertaking continues the Vance Center's previous delegations to Guatemala, assessing judicial independence in 2013 and 2014. The Vance Center also plans to conduct a training session for the Guatemala Association of Judges for Integrity, supported by a grant from the Chubb Rule of Law Fund.