Vance Center Co-Hosts Discussion on International Climate Litigation
On October 18 the Vance Center, together with Milbank, co-hosted a discussion on their ongoing work in international climate litigation.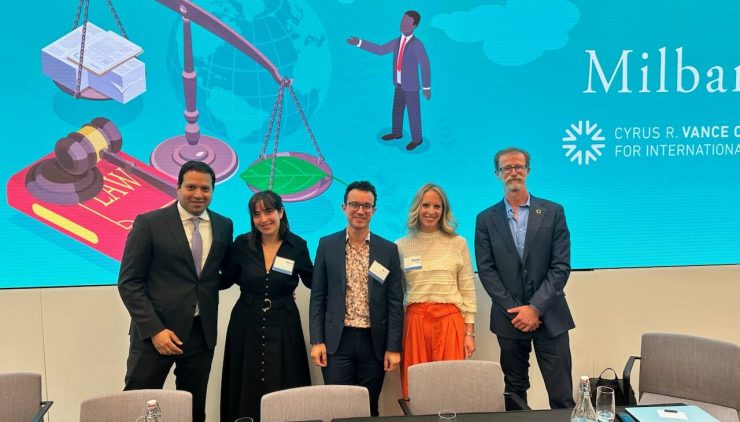 The October event, chaired by Milbank partner and Vance Center Committee member Viren Mascarenhas, featured a lively exchange on a range of issues and brought together a diverse range of voices from government, finance, and civil society.
UN Special Rapporteur on Human Rights and the Environment David Boyd reported from his recent country mission to Botswana, highlighting the importance of human rights as a framework for international justice and cooperation in ensuring that less developed countries are able to access finance necessary for a just transition. Lucía Solano, legal adviser to the Permanent Mission of Colombia to the UN, outlined the considerations which motivated Colombia's decision to request an advisory opinion on climate change from the Inter-American Court of Human Rights. Brooke Guven, head of ESG and Sustainability at Cerberus Capital Management, discussed the competing pressures and incentives on investors to lead a just transition consistent with respect for human rights. 
In his presentation, Vance Center Senior Staff Attorney Sam Bookman set out some of the benefits of utilizing human rights arguments in climate law. These include strengthening the nexus between climate change and human impacts; drawing attention to issues of loss and damage (including remedies and reparations); integrating the work of different international tribunals; and ensuring that mitigation and adaptation activities are consistent with human rights obligations. 
Milbank and the Vance Center are currently acting as co-counsel for several UN Special Rapporteurs in advisory proceedings before the International Tribunal of the Law of the Sea (ITLOS), and the Inter-American Court of Human Rights, which will clarify the scope of countries' climate obligations under international law. Milbank and the Vance Center have emphasized states' obligations under international human rights law, and explored how human rights inform other international law regimes in these considerations. 
In May, the Milbank and the Vance Center filed a brief on behalf of three UN Special Rapporteurs before the ITLOS, which subsequently heard oral submissions in September. Parties have until December 2023 to file before the Inter-American Court, and the Vance Center and Milbank are again representing three UN Special Rapporteurs. The Vance Center is grateful to Mascarenhas and the entire team at Milbank for their exceptional support on these projects.