Vance Center Co-Hosts Workshops on the Escazú Agreement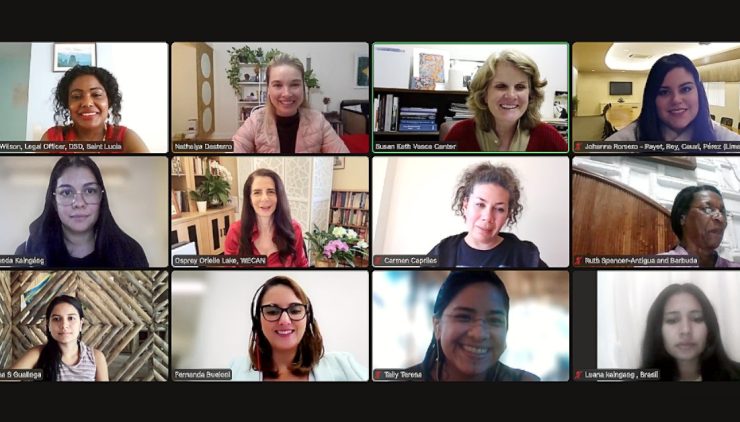 The Vance Center Environment Program co-hosted workshops over two days with the Women's Earth & Climate Action Network – WECAN International for the benefit of WECAN's network of women and land defenders focused on the Escazú Agreement and its implementation.
The Escazú Agreement is the first environmental treaty in the Latin American and Caribbean region to enshrine the rights of access to information, citizen participation, and access to justice in environmental matters in a legally binding instrument that includes provisions and protections for environmental human rights defenders.
The Vance Center launched its Escazú Agreement project in 2021, consisting of research and country reporting regarding the extent to which existing laws comply with the treaty and are being enforced. Unlike a simple analysis of domestic legislation, the 6 reports aimed at ongoing tracking of the application of the laws and suggesting routes to enforcement and implementation of the rules already provided by the country's legislation and the treaty. The reports are now available and free to the public.
Osprey Lake, founder and executive director of WECAN, led the workshops and, after a short presentation of the country reports, the floor opened for  network members to make comments and ask questions. Vance Center Environment Program Advisor  Nathalya Desterro presented the reports for Antigua and Barbuda and Ecuador, while three law firms presented the country reports  for Bolivia, Brazil, Colombia, and Peru.
Women from many locations in Latin America and the Caribbean participated in the event, including some joining from the front line of the fight for land rights.
The workshops took place  shortly after the first Conference of the Parties to the Escazú Agreement. The COP was a notable accomplishment, with the publishing of the Political Declaration and decisions 1) approving the Rules of Procedure of the Conference of the Parties and Rules Relating to the Structure and Functions of the Committee to Support Implementation and Compliance, 2) election of presiding officers, 3) creation of the ad hoc working group on human rights defenders on environmental matters, etc. The Vance Center will continue to follow the implementation of the Escazú Agreement , focusing on how the people whom the treaty aims to protect will help to implement it, how the signatories to the treaty will enforce it, and whether more countries will join as parties.