Vance Center Helps Advocate for Sustainable Infrastructure in Angola and Namibia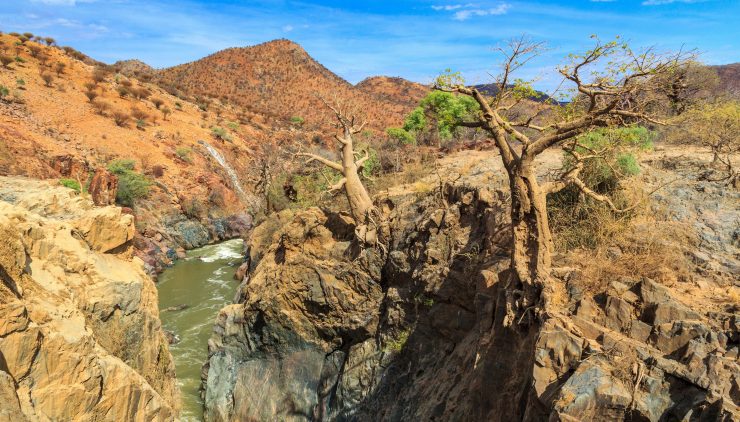 (The Canyon of Kunene River in Namibia | photo credit: NadineKlose/Shutterstock.com)
The Environment Program supported International Rivers in its advocacy on behalf of the indigenous Himba people, who are among the most successful remaining pastoralist peoples on the African continent. The Himba rely on the Kunene River, originating in the Angolan highlands and flowing along the Angola-Namibia border, for consumption, irrigation, and religious practice.
Hydroelectric dams and other infrastructure projects have posed a persistent threat to Himba communities along the river in both countries. Despite a successful campaign to defeat the destructive Epupa Dam in the 1990s, another dam with significant environmental impacts, the Baynes Dam (also known as the Orokawe Dam), has been proposed.
Development pressures have spurred the drive to develop hydroelectric power in Angola and Namibia, with the Angolan government seeking to dam a majority of its rivers. The Kunene River historically is susceptible to wide variation in its flow, which the climate crisis has compounded, and regular droughts have caused severe loss of livestock and food shortages, among other problems, for the communities.
Shearman & Sterling joined the Vance Center in providing pro bono legal support to International Rivers, researching the general legal framework for river protection under Namibian and Angolan law, including an analysis of the public participation processes for approval of hydroelectric dams. The firm researched the administrative and judicial review of dam approval decisions in both countries, along with the history of cross-border environmental agreements between them. The firm also analyzed the rights of the Himba under international law regarding projects on their ancestral lands, including free, prior and informed consent (FPIC).
International Rivers will use the firm's report in January 2020 when it travels to the Namibian side of the Kunene River to meet with the Himba communities threatened by the Baynes dam project and advise them of their rights.
As part of a global movement to safeguard river ecosystems and protect the communities who depend on them, International Rivers advocates for legal frameworks to ensure long-term protection of rivers and champions them as vital to sustaining all life on earth. The project in Angola and Namibia continues work for International Rivers that the Vance Center Environment Program has undertaken in India, Latin America, and Southeast Asia.