Vance Center Focuses on SLAPPs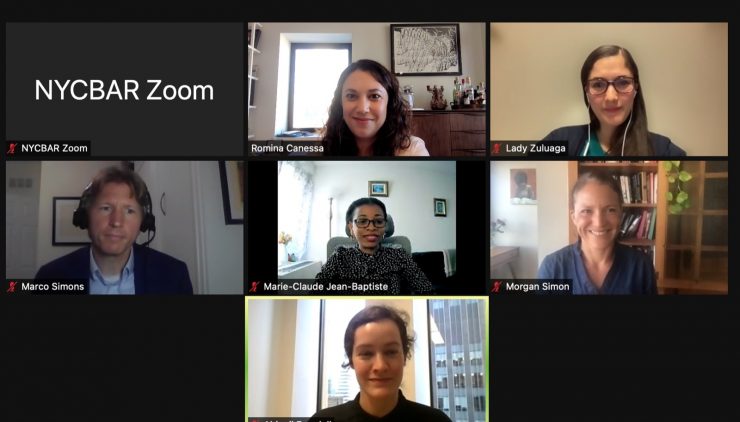 Vance Center Executive Director Alex Papachristou spoke on a panel "London Calling: Why is England the 'ideal' SLAPP jurisdiction?" at the Anti-SLAPP Conference "Countering Legal Threats against Media Freedom", organized by the Foreign Policy Centre and Justice for Journalists.  His remarks, which received mention in the Shift, included observations based on the Vance Center's participation in the defense of its client the Organized Crime and Corruption Reporting Project against a SLAPP by an Azerbaijani parliamentarian, as well other past and current cases in London. Papachristou is a member of the European Commission Expert Group Against SLAPP, as well as the UK Anti-SLAPP Working Group.
______________________________
The Vance Center's Human Rights Program hosted a webinar "SLAPPed but not silenced: Defending human rights in the face of legal risks" to discuss the role of lawyers in deterring strategic lawsuits against public participation (SLAPPs). SLAPPs are civil or criminal lawsuits brought by business actors to attack human rights defenders who speak out against abuses. The webinar, co-hosted by the Business & Human Rights Resource Centre, brought together human rights advocates and lawyers defending against SLAPP cases, as well as victims of SLAPPs. Speakers included:
Romina Canessa, Vance Center Human Rights and Access to Justice Program Staff Attorney, moderated the discussion.
In opening remarks, Jean-Baptiste spoke about the worrying rise, including through the use of SLAPPs, in the criminalization of human rights defenders who expose human rights violations by businesses. She explained that SLAPPs have a chilling effect not just on defenders but on the broader society because, by stifling dissent, SLAPPs threaten democratic values. Jean-Baptiste welcomed the discussion on the role of lawyers in SLAPPs given the fundamental role that they play on both sides of SLAPPs and called on lawyers to become allies in the legitimate work of human rights defenders who expose corporate abuses.
Lady Zuluaga presented the Business & Human Rights Resource Centre's ground-breaking report SLAPPed but not silenced: Defending human rights in the face of legal risks which found that SLAPPs are a global problem targeting human right defenders in a variety of sectors. Latin America, Asia, and the Pacific region have the highest number of SLAPPs, although they occur in all regions, including the United States. The report found 19 law firms and lawyers who routinely represent companies in SLAPPs, indicating that some law firms may be specializing in bringing these cases.
The other speakers observed that SLAPPs constitute an abuse of the legal system, because the companies bringing these lawsuits do not intend to win. Their real purpose is to intimidate, drain resources from, and slow the work of human rights defenders. "SLAPPs are only aimed at distracting from the real issue" said Morgan Simon who spoke of her experience facing a SLAPP and the harms that SLAPPs cause to the target's business as well as personal life. Abigail Everdell, who was part of the legal team representing Morgan Simon in the SLAPP lawsuit, agreed that SLAPPs constitute an emotional and financial drain on the defendants personally and their organizations.
Regarding the role of lawyers, Marco Simons and Abigail Everdell emphasized the need to educate the legal community on the harm that SLAPPs cause to human rights defenders so as to avoid normalizing the practice. They called on the legal community to take an active stand against participation in attacking protected speech through SLAPPs. They exhorted lawyers to provide legal advice to defenders before they publish reports on abuses, particularly to defenders who do not yet understand the importance of such review and cannot afford such services. They also called on lawyers to provide pro bono support to defenders facing SLAPP lawsuits, including through the Protect the Protest Coalition and to refrain from representing companies bringing SLAPPs.
Lawyers can also engage in deterring SLAPPs by supporting anti-SLAPP legislation which provides procedural protections to defendants in SLAPP lawsuits including, among others, a burden shifting framework, stay of discovery, which can be very expensive for defendants, interlocutory appeals, and award of attorney fees. According to the speakers, making businesses pay for defendants' attorney fees gives real teeth to anti-SLAPP laws and offers an additional layer of protection to defenders who often cannot bear the costs of litigation. Speaking from her own experience, Morgan Simon emphasized the importance of thoughtful and specialized legal counsel in overcoming SLAPP attacks.
Marco Simons spoke about some of the non-legal ways to deter SLAPPs, including supporting human rights defenders to amplify their work to overcome SLAPP and other efforts to suppress it. Simons also reflected on the ethical implications of lawyers representing companies bringing SLAPPs and called for action by bar associations, including possibly sanctioning lawyers bringing SLAPPs. He also proposed that lawyers involved in SLAPPs should face social and professional sanctions. By using SLAPPs as an abusive legal strategy, these lawyers, he stressed, undermine faith in the legal profession and should not retain their high status in the legal community.
Marco Simons and Abigail Everdell also added that the judiciary has a role to play in deterring SLAPPs by properly applying anti-SLAPPs statutes where available and using their discretion through case management to dismiss these cases early. Speakers also agreed that the judiciary needs education on SLAPPs, as do legislators and the larger public. Investors and shareholders also have a role to play by calling out the use of SLAPPs as a bad business decision.
The webinar was organized by the Vance Center's Human Rights and Access to Justice Program's Business and Human Rights Initiative. Launched in 2015, the Business and Human Rights Initiative draws on the expertise of law firms in the United States and abroad to contribute to the continuing development of best practices in BHR. As part of this initiative, the Program has advised international NGOs and organized conferences on these issues.  The Vance Center led discussions within the New York City Bar Association that culminated in the creation of the City Bar's Business and Human Rights Working Group in 2019 and the adoption in 2020 of a Policy Statement on Business and Human Rights that endorses the United Nations Guiding Principles on Business and Human Rights.
A recording of the webinar is available here