Vance Center Hosts Panel Addressing Urgent Legal Questions on Russian Government Assets and the War in Ukraine
On May 23, the Vance Center held a panel at the New York City Bar Association entitled "Russian Government Assets and the War in Ukraine – Seize or Freeze?"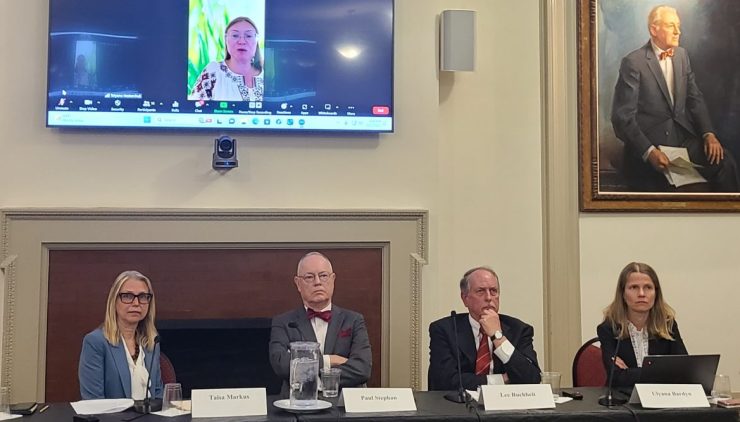 Moderator Taisa Markus and panelists Tetyana Nesterchuk, Paul Stephan, Lee Buchheit, and Ulyana Bardyn at the Ukraine Project panel discussion at the New York City Bar Association, May 23, 2023. (Photo credit: Vance Center)
The panel was organized by the Vance Center's Ukraine Project, which furthers work in the areas of rule of law and access to justice to address the war in Ukraine.   
In opening remarks to about 45 in-person and remote attendees, Ulyana Bardyn, Chair of the City Bar's International Law Committee, emphasized the urgent need for a solution that would enable Ukraine and its people to gain access to monetary resources. Moderator Taisa Markus, Special Counsel for the Ukraine Project, introduced the panelists and set the stage for a discussion of topics including domestic and international legal issues, questions of equity and fairness, and strategic and political considerations related to the estimated US$300 billion of Russian central bank reserve assets frozen in G7 countries, the EU and Australia, including approximately US$38 billion in the United States.   
The conversation opened with Paul Stephan, Distinguished Professor of Law at the University of Virginia and a leading public international law expert. Professor Stephan discussed issues related to accessing and utilizing currently frozen assets from a sanctions perspective and touched on the use of countermeasures in accordance with the UN Charter to access these assets. 
Stephan described the current situation as "3D chess" and highlighted the need for a strategic timeline for seizing and allocating assets. "Anything [gained] through civil forfeiture can go to the Ukrainians, but we haven't gotten anything yet," he said.  
Attendees next heard from Lee Buchheit, a leading sovereign debt lawyer currently serving as Honorary Professor at Edinburgh Law School after a 42-year career in private practice. While recognizing the limitations of U.S. domestic law on immediately accessing and utilizing frozen governmental assets, Buchheit noted a need to act expediently to implement a mechanism to transfer and safeguard frozen assets to ensure they will be used to support Ukrainian reconstruction efforts whenever the conflict comes to an end.  
Tetyana Nesterchuk, an English law barrister at Fountain Court who has advised the U.K. government on relevant issues, joined the event via Zoom. In her comments, Nesterchuk offered insight into the U.K.'s current approach, including her view that there is political support in the U.K. for seizing assets, but that legislation would be necessary to permit such action, along the lines of legislation already enacted in Canada. 
Following the discussion, the panelists responded to audience questions on different approaches to asset allocation, the role of U.S. legislation, and other concerns. 
This event was co-sponsored by the Council on International Affairs and the International Law Committee of the New York City Bar Association.