Panel discussion: "Russian Government Assets and the War in Ukraine – Seize or Freeze?"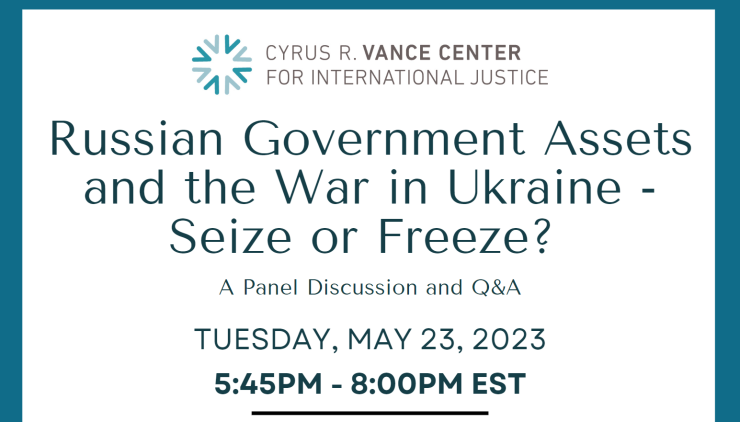 As Russia continues its unprovoked war in Ukraine, discussions about funding the reparation and reconstruction of Ukraine increasingly center around the use of Russian governmental assets. In those discussions, novel questions of domestic and international law, as well as political considerations, come into play. We have gathered a panel of leading experts in the field to discuss legal mechanisms for seizure of these assets, issues of sovereign immunity, the International Economic Emergency Powers Act and approaches in other jurisdictions and under public international law.
Please join the Cyrus R. Vance Center for International Justice – either in-person or via Zoom – on Tuesday, May 23, from 5:45-8:00 p.m. EST, for a panel discussion, "Russian Government Assets and the War in Ukraine – Seize or Freeze?"
RSVP to attend in person here.
Zoom registration here.
This event is co-sponsored by the Council on International Affairs and the International Law Committee of the New York City Bar Association.
Agenda
5:45pm – 6:00pm: Registration
6:00pm – 7:00pm: Opening Remarks and Panel Discussion
7:00pm – 7:15pm: Closing Remarks and Q&A
7:15pm – 8:00pm: Refreshments and Networking
Speaker Bios
Lee C. Buchheit retired in 2019 after a 43 year career in private legal practice. For much of his career Mr. Buchheit specialized in sovereign debt management projects and has worked on over two dozen sovereign debt restructurings. Mr. Buchheit led the international legal teams advising the Hellenic Republic (2011-12) and the Republic of Iraq (2005-08) in their debt restructurings — the two largest sovereign debt workouts in history. Mr. Buchheit is the author of two books in the field of international law and over 40 scholarly papers on sovereign debt matters.  He holds academic appointments at several universities in Europe and the United States.
Tetyana Nesterchuk is an experienced litigator and arbitrator and currently the only Ukrainian practicing at the English Bar (at Fountain Court chambers). Formerly a solicitor (2006-2010), a lecturer in Trusts, Torts, Land and Roman law at Oxford University (2005-2015) and judicial assistant in the Supreme Court (2010-2011), she regularly acts in high profile, complex and sensitive cases, representing government bodies and high net worth individuals.
Paul Stephan is the John C. Jeffries, Jr., Distinguished Professor of Law and the David H. Ibbeken '71 Research Professor of Law at the University of Virginia, and a senior fellow at UVA's Miller Center. He worked on behalf of the Department of Treasury to assist Russia in the creation of its tax system from 1993 to 1998. He served as Counselor for International Law to the Legal Adviser of the Department of State in 2006-2007, and as Special Counsel to the General Counsel of the Department of Defense in 2020-21. He was coordinating reporter for the American Law Institute's Restatement (Fourth) of the Foreign Relations Law of the United States from 2012 to 2018. Stephan joined the UVA Law faculty in 1979 after completing clerkships with Judge Levin H. Campbell of the U.S. Court of Appeals for the First Circuit and Justice Lewis F. Powell, Jr., of the Supreme Court.
Ulyana Bardyn represents clients across industries in complex cross-border disputes, including international commercial arbitrations, investor-state disputes, and business litigation matters. Apart from dispute resolution, Ulyana frequently advises clients on matters relating to dispute prevention, as well as on corporate and investment structuring, and is actively involved in counseling work in the area of Business and Human Rights. Ulyana is a Fellow of the Chartered Institute of Arbitrators (FCIArb), and she sits as arbitrator. An active member of the international law community, Ulyana serves as Chair of the International Law Committee at the New York City Bar Association and Co-Chair of the CPR Institute's Steering Committee of Young Attorneys in Dispute Resolution (CPR Y-ADR).