Vance Center Launches Global Defamation Defense Program on World Press Freedom Day
The Vance Center, along with the Organized Crime and Corruption Reporting Project (OCCRP) and other partners, this month launched Reporters Shield, a membership program to defend investigative journalism against the growing threat of vexatious lawsuits intended to harass and silence independent media worldwide.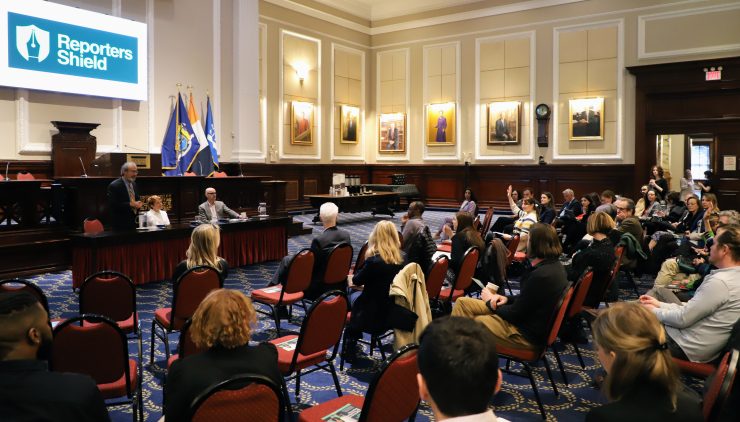 Vance Center Executive Director Alexander Papachristou; Pavla Holcová, OCCRP's Regional Editor for Central Europe; and Peter Noorlander, start-up executive director of Reporters Shield, at the Reporters Shield launch event, May 3, 2023. (Photo credit: Vance Center)
In a launch event held at the New York City Bar Association on May 3, World Press Freedom Day, Vance Center Executive Director Alexander Papachristou joined Peter Noorlander, start-up executive director of Reporters Shield, and Pavla Holcová, OCCRP's Regional Editor for Central Europe, to introduce Reporters Shield and officially open the call for membership applications. Papachristou, Noorlander and Holcová outlined the program's goals and structure and answered questions from an audience of free expression advocates, members of the media, media lawyers, and others.  
"The Vance Center for many years has helped independent media to defend against vexatious defamation claims, but always on a case-by-case basis without the guarantee of co-counsel to help. Reporters Shield offer systematic support to defend media, and we are proud to be part of it," Papachristou said. 
The previous day, May 2, Noorlander participated in a panel entitled "Press freedom, the threats to journalists and the future of the media," at the United Nations as part of UNESCO's World Press Freedom Day anniversary event. During the panel, Noorlander highlighted the growing global trend of SLAPPs and other legal threats to media outlets, and emphasized how Reporters Shield aims to offer a reliable solution for investigative reporters to fight back against these suits.  
Earlier in the day, USAID Administrator Samantha Power introduced Reporters Shield to the UN audience in a keynote address on government policies and responses to freedom of expression concerns. USAID is contributing up to $9 million in seed funding to Reporters Shield for support to non-U.S. media. 
"Reporters Shield is going to grow stronger as more individuals and organizations join us in supporting it, whether that is through funding or providing pro bono legal support," Administrator Power told attendees. "So please, I would appeal to you to raise awareness of this new initiative, Reporters Shield. I urge everyone to join us in protecting journalism against threats, both well-worn threats and these newer threats." 
Since its launch, Reporters Shield has already received more than 50 applications for membership, which are under review. 
Strategic Litigation Against Public Participation (SLAPP) suits are lawsuits intended to harass and intimidate journalists without any legitimate basis. Criminal and corrupt figures and organizations increasingly have resorted to SLAPPs over recent years to conceal their illicit dealings from public scrutiny and accountability. The rise in SLAPPs targeting reporting organizations and even individual journalists has made it more likely that media outlets may be forced to self-censor, avoid reporting about especially litigious individuals, remove stories from their platforms upon receiving legal threats, or reduce operations, threatening the public's ability to access critical information. 
Reporters Shield aims to provide a systemic solution to the risk posed by SLAPPs, offering media outlets and other independent organizations engaged in public interest reporting membership benefits to limit litigation risk, respond to legal threats, and defend against SLAPPs. The Vance Center will coordinate these legal services for members on behalf of Reporters Shield, an independent nonprofit organization based in the United States. 
To join, media organizations must meet certain criteria and pay an annual fee to ensure that the program is sustainable. Reporters Shield is accepting applications worldwide and will be reviewing them in phases. Phase I includes most countries in South America, North America, Europe, and Central Asia. Membership for other regions will become available later this year and in 2024. The Reporters Shield website has more information about membership. 
Reporters Shield was developed by the Vance Center and OCCRP, with assistance and support from insurance specialists. The law firms of Proskauer, Primmer Piper Eggleston & Cramer PC, and Weil, Gotshal & Manges LLP provided pro bono legal support.