Vance Center Organizes Training for Sierra Leone Police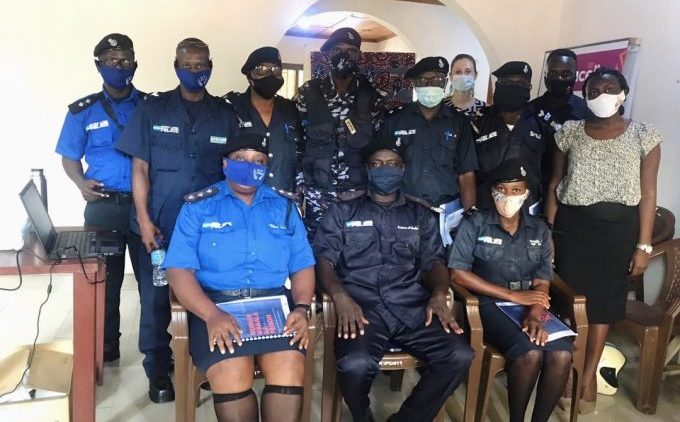 (Photo Credit: Isabella Cordua)
The Vance Center and local partner organization AdvocAid[1] facilitated a series of training workshops for police officers in Sierra Leone, as part of the Vance Center's ongoing Women in Prison Project. The training followed on a study by the Vance Center and AdvocAid on the causes and consequences of women's imprisonment in Sierra Leone.
The study found that women in prison face gender discrimination within the criminal justice system. As a result, the Vance Center and AdvocAid recommended that the government recognize gender inequality as both a driver and consequence of women's imprisonment. The government welcomed this and supported the training to encourage police to apply a more gender-responsive approach, particularly on issues that disproportionately or differently affect women in prison in Sierra Leone.
Twenty-six police officers participated in the training at AdvocAid's office in Freetown, focusing on how to counteract gender discrimination in the criminal justice system and better respond to the needs of women who come in contact with the law, including the  connection with gender-based violence.
The Vance Center and AdvocAid's study found that almost all women in prison for violent crimes had committed these offenses in response to intimate-partner violence and often in self-defense. The research also revealed that almost three-quarters of the women in Sierra Leone's prisons had suffered at least one form of violence at the hands of their partners or spouses. Yet, the study also showed that the police are often unlikely to intervene in what they consider as domestic disputes between a man and his female partner.
The training successfully raised awareness among the police of the importance of a gender-sensitive approach to policing. While only 21 percent of participants thought that gender discrimination played a role in the country's criminal justice system before the training, 92 percent afterwards acknowledged that this was an issue that should be tackled in Sierra Leone.
Forty-two percent of those in the training said that they had not thought previously of gender-based violence as linked to women coming in contact with the law, but afterwards could see the importance of responding to the first to avoid the latter. One officer said:
"Before the training I never thought that domestic violence had something to do with women committing crimes. I will never neglect this issue again. As officers, we must take [domestic violence] seriously. "
The training comes only weeks after the Vance Center and AdvocAid submitted a contribution to Sierra Leone's May 2021 Universal Periodic Review (UPR). The UPR is a unique process through which the UN Human Rights Council reviews the human rights records of all 193 UN Member States. Civil society is encouraged to participate in the review and submit information on the countries' compliance with their human rights obligations and commitments.
The Vance Center and AdvocAid's submission focused on human rights concerns with regards to women in prison in Sierra Leone, with a focus on issues such as prison conditions, unfair police practices, arbitrary arrests, petty offences, violence against women, and the death penalty.
These initiatives are part of the Women in Prison Project, which the Vance Center's Human Rights and Access to Justice Program launched in 2017 to promote global collaboration on improving conditions of women's imprisonment. It convenes women prisoners' rights advocates from the Americas, Africa, and Asia to 1) share information about conditions of women's imprisonment in their respective countries or regions; and 2) build capacity for improved monitoring and reporting of conditions in women's prisons.[2]
[1] AdvocAid provides holistic access to justice to women and girls caught up in the Sierra Leone's often unjust legal system
[2] Examples of initiatives under the Project include:
Convening in Bogota, Colombia, the first international conference of women prisoners' rights advocates. The Vance Center, in partnership with Penal Reform International, brought together 49 advocates from 23 countries, including nine formerly incarcerated women. Out of this conference was created the first-ever global network of advocates for women prisoners: the Women in Prison Network.
The report "Women in Prison: Africa Regional Initiative", developed in collaboration with NGOs and law firms in Nigeria, The Gambia, Malawi, Kenya, and Tanzania. The report surveys what is currently known about women's incarceration in these five African countries, both in law and practice. It provides a detailed analysis of these countries' compliance with domestic, regional, and international standards on women's incarceration.
Mobilizing the Women in Prison Network and conducting research on government responses to the Covid-19 pandemic in detention centers for women in the Global South. The research focused on six key areas: healthcare, prison protocols and rules, children in prison with their mothers, rehabilitation and release, the criminal justice system, and prison staff and covered 17 Global South countries.