Vance Center Joins in Celebration of Mattos Filho's Pro Bono Program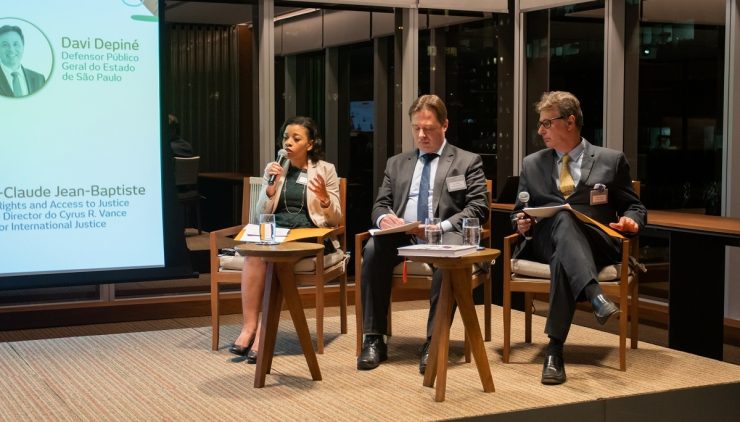 (From Left: Marie-Claude Jean-Baptiste, and Marchos Fuchs | Photo Credit: Mattos Filho)
Vance Center Human Rights and Access to Justice Program Director Marie-Claude Jean-Baptiste participated in leading Brazilian law firm Mattos Filho's 20th anniversary celebration of its pro bono program. The date also marked the firm's signing of a pro bono cooperation agreement with the Sao Paulo State Public Defender's Office.
Jean-Baptiste joined a panel on current challenges to pro bono practice and access to justice in Brazil, along with Davi Eduardo Depiné Filho, General Public Defender, São Paulo State Public Defender's Office, Flavia Regina de Souza Oliveira, Mattos Filho partner, and Marcos Fuchs, Director, Instituto Pro Bono. Bianca dos Santos Waks, lawyer and coordinator of the Mattos Filho 100% pro bono practice, moderated.
Jean-Baptiste in her remarks reflected on the internationalization of public interest law and the importance for law firms to develop pro bono programs to meet the increasing demand for international pro bono support, especially in emerging economies. She pointed to increasing interest in South-South collaborations resulting in greater demand for legal expertise from law firms in the Global South and commended Mattos Filho for its leadership in this area. Jean-Baptiste concluded by noting that younger generations of lawyers are more aware of their role in creating a just and equitable society and their responsibility to donate their time and talent towards this goal.
Together, the panelists addressed the still unmet goal of achieving access to justice for all in Brazil and the need for the justice system to be closer to those whom it serves. They called for a more sensitive approach to the delivery of legal services to achieve access to justice with dignity.
Mattos Filho has been a long time partner of the Vance Center's Human Rights Program, participating in many pro bono projects, including on the right to housing and the human rights impact of mega sporting events, rights of women in prison, violence against women, and the prevention of genocide and mass atrocities. At the event, the firm presented a book compiling some of its pro bono work on behalf of NGO clients including the Vance Center.
Mattos Filho 100% Pro Bono practice has a staff dedicated full time to pro bono matters. They work on three main fronts: 1) promotion and defense of human rights; 2) strengthening civil society organizations; and 3) supporting citizenship and public policies' improvement.