Africa Program Updates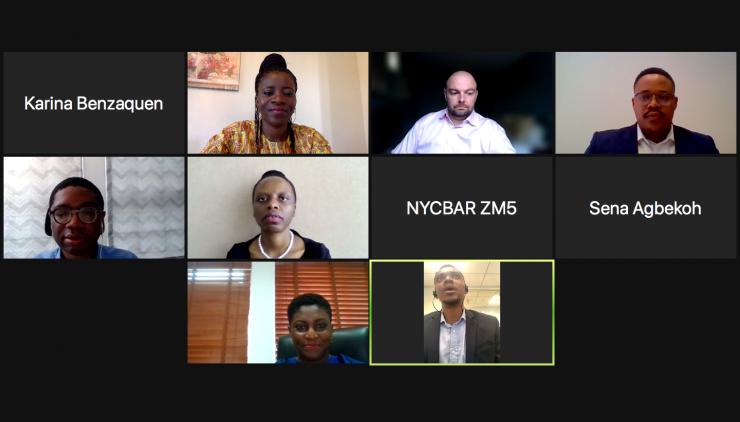 Africa Program Manager Adaobi Egboka and Director of Pro Bono Partnerships Jorge Escobedo recently organized an exchange on pro bono practice between representatives from Strathmore University in Kenya and the University of Montevideo in Uruguay, a key member of the Pro Bono Network of the Americas. The conversation focused on the practical considerations of incubating a pro bono clearing house within a faculty of law. The Kenyan academics and their Uruguayan counterparts shared their experiences and views.
This exchange represented part of the Vance Center's broader initiative for pro bono promotion on the African continent. The cornerstone of those efforts currently is the Africa Pro Bono Series. The third installment of the Series will take place on May 20, 2021, at 10:00am (EST) and will highlight the many benefits for civil society organizations of collaborating with pro bono clearinghouses for their legal needs. Latin American and African civil society actors will participate.  Please contact aegboka@nycbar.org to attend.
xxxxxx
The Vance Center and Norton Rose Fulbright convened a webinar on "the opportunities and challenges of deal-making in Africa's consumer, media and entertainment sectors." The event continued the Vance Center's bi-monthly initiative to make up for the near absence of African Legal Fellows this year and discuss topical issues in Africa, launched in February 2021.
Vance Center Committee member Ikenna Emehelu and Mark Griffiths, respectively Norton Rose Fulbright, New York partner and South Africa director, moderated this second installment, with more than 30 participants from Africa and the United States.
Vance Center Africa Legal Fellows alumni, Mlu Mahlangu, partner at Webber Wentzel, South Africa, Lotanna Nwodo, Legal Counsel at TEPNG, Nigeria, and Cindy Oraro, partner at Oraro & Company Advocates, Kenya, along with Sena Agbekoh, associate partner at AB & David, Ghana, discussed opportunities in the consumer, media and entertainment sectors in South Africa, Nigeria, Kenya, and Ghana.
The panelists explained how private equity firms and other investors could structure and negotiate investments in Africa to minimize risk and maximize future value:
Nwodo emphasized the need to plug into Nigeria's consumer sector because of its vast population, growing middle class, and investment opportunities.
Oraro highlighted the opportunities for investment in technology with the increasing youth population and inventions in Kenya. She emphasized that Kenya is a thriving market as the gateway to investment in East Africa.
Agbekoh explained the Ghanaian government's effort to support foreign direct investment, like the Creative Arts Fund created to nurture local talents and increase the inflow of foreign currency.
Mahlangu presented what he called the five trends in opportunities for investment in Africa: increased mergers and acquisitions activities by Africa-based investors in their own countries and across the continent; the growth of Africa-based private equity funds; the attraction of technology sector start-ups; the emergence of pan-African platforms; and the revival of state-owned portfolio activity, as governments seek to unlock investment in under performing assets and counter the devastating impact of the pandemic on livelihoods.
The panelists also highlighted the challenges to investment: the paucity of data for investors to evaluate opportunities; policy uncertainty; political instability; security challenges; and the need for institutional reforms. They stated that Africa is a continent with varying social, political, and economic circumstances and recapped that the COVD-19 pandemic highlighted its social, infrastructure, and economic limitations. They concluded that investors must work with local partners and stakeholders to help navigate the local pitfalls in the consumer, media, entertainment, and technology sectors.