Strengthening Access to Justice: Bridging the Gap between Lawyers and Community Practitioners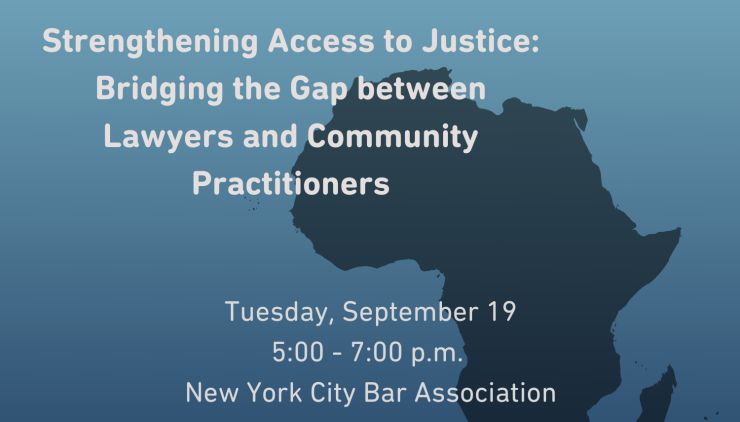 The Vance Center and the African Center of Excellence for Access to Justice are hosting a convening of legal professionals, community justice practitioners, and thought leaders from across the globe to explore collaborative strategies, share best practices, and discuss innovative models that enhance access to justice for marginalized communities.  
This dynamic discussion, moderated by Vance Center Africa Program Director Adaobi Egboka, will offer an opportunity for pro bono lawyers and community justice practitioners to discuss ways to strengthen work at the intersection of legal expertise and grassroots engagement, and to collaborate in addressing systemic barriers to justice for marginalized populations. It will also showcase successful projects and initiatives that bridge legal expertise and community empowerment in a range of countries including South Africa, Malawi, Zimbabwe, Zambia, Kenya, and Mozambique; promote effective partnerships; and highlight experiences from African and international contexts to enhance access to justice. 
Experts
Participants include:
Edwin S. Maynard – Of Counsel, Paul, Weiss, USA | Vance Center Committee [bio]
Annette Mbogoh – Executive Director, Kituo Cha Sheria-Legal Advice Centre, Kenya [bio]
Clifford Msiska – National Director, Paralegal Advisory Service Institute (PASI), Malawi [bio]
Phillip Sabuni – National Coordinator, Paralegal Alliance Network (PAN), Zambia 
Tshenolo Tshoaedi – Executive Director, Community Advice Offices South Africa 
Valerie Zviuya– Executive Director, Legal Resources Foundation, Zimbabwe [bio]
*Moderator: Adaobi Egboka – Africa Program Director, Vance Center [bio]
Agenda
Space is limited; please register below or at this link.