Webinar: Construyendo un camino hacia ALA/CFT en activos virtuales en Latinoamérica y el Caribe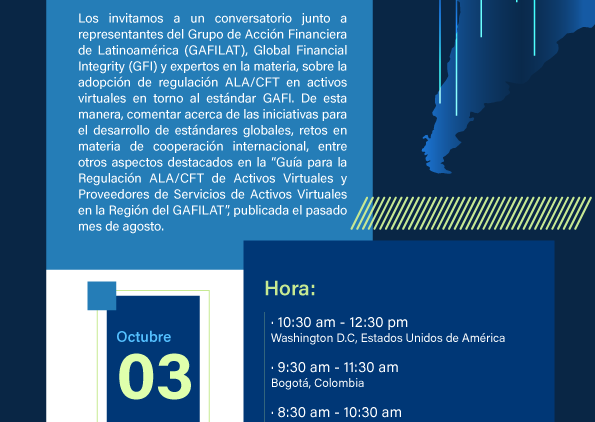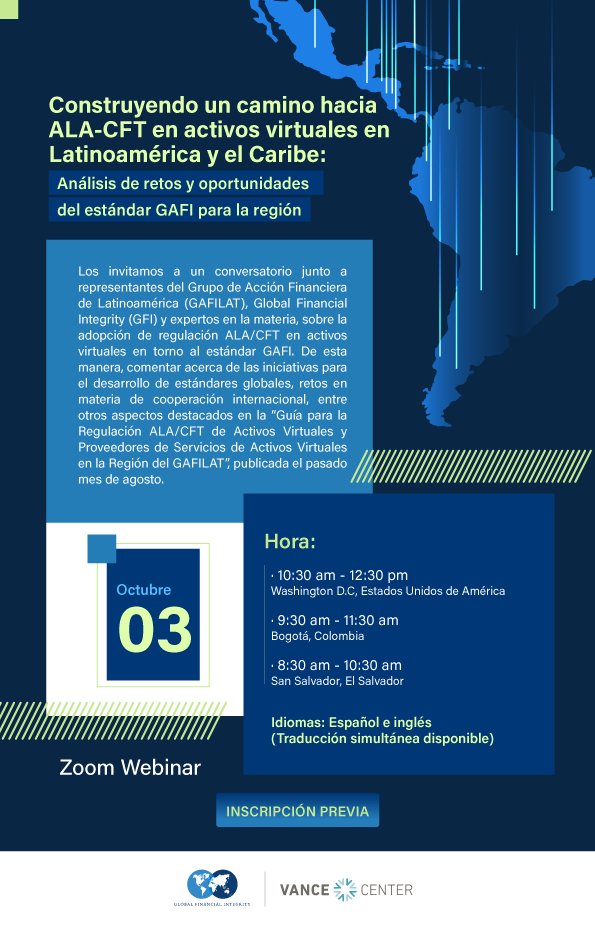 Construyendo un camino hacia ALA/CFT en activos virtuales en Latinoamérica y el Caribe: Análisis de retos y oportunidades del estándar GAFI para la región
Global Financial Integrity y el Vance Center presentan un interesante panel de expertos con el objetivo de fomentar el debate sobre la acción de los gobiernos, respecto a los potenciales riesgos financieros de las criptomonedas, descubrir los desafíos actuales en la región y discutir posibles soluciones junto al sector privado, la banca y la academia.
Los estándares anti lavado de activos y contra el financiamiento del terrorismo (ALA/CFT) en América Latina y el Caribe buscan abordar el constante cambio del ecosistema cripto en la región. Adicionalmente, el número de usuarios de activos virtuales sigue aumentando en América Latina y el Caribe, y los gobiernos deben adaptarse de manera eficiente a los lineamientos internacionales y nacionales para abordar los delitos financieros que pueden surgir a partir de esta actividad.
Los invitamos a este conversatorio junto a representantes del Grupo de Acción Financiera de Latinoamérica (GAFILAT), Global Financial Integrity (GFI) y expertos en la materia, sobre la adopción de regulación ALA/CFT en activos virtuales en torno al estándar GAFI. De esta manera, participantes puedan comentar acerca de las iniciativas para el desarrollo de estándares globales y retos en materia de cooperación internacional, entre otros aspectos destacados en la "Guía para la Regulación ALA/CFT de Activos Virtuales y Proveedores de Servicios de Activos Virtuales en la Región del GAFILAT", publicada el pasado mes de agosto.
Interpretación simultanea español/inglés disponible.

________________________________________________________________
Developing Effective AML/CFT Regulation for Virtual Assets in Latin America and the Caribbean: Regional Challenges and Opportunities in Meeting the FATF Standard
Anti-money laundering and counter terrorism financing (AML/CFT) standards in Latin America and the Caribbean must respond to the region's evolving crypto ecosystem. As consumer adoption of virtual assets increases, governments must adapt and incorporate international and national standards to address financial crimes that may potentially arise in the sector.
Join us for a conversation with representatives from the Latin American Financial Action Task Force (GAFILAT) and Global Financial Integrity (GFI) on AML/CFT regulation for virtual assets in line with the FATF standards. The discussion will focus on developing global standards and addressing challenges arising in international cooperation, among other topics highlighted in GAFILAT's "Guide to AML/CFT Regulation for Virtual Assets and Service Providers in the GAFILAT Region," published in August (in Spanish).
Spanish – English interpretation available.