Vance Center African Legal Fellows Speak at Linklaters Panel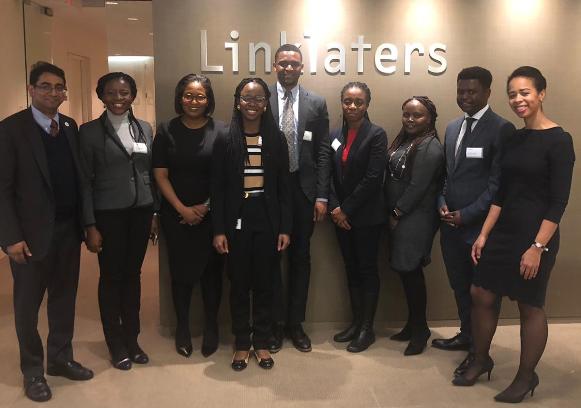 (photos: Adaobi Egboka)
Linklaters hosted a panel presentation by the Vance Center's African Legal Fellows, organized by the firm's Black Affinity Network of the Americas, commemorating Black History Month.   The fifty-plus audience included Linklaters Firmwide Managing Partner Gideon Moore, Global U.S. Practice Head Tom Shropshire, and firm partner and Vance Center Committee member Vijaya Palaniswamy.
Shropshire made the opening remarks, along with Vance Center Executive Director Alexander Papachristou who noted Palaniswamy's key help in forging the partnership with Power Africa.  Linklaters associates Nandy Millette and Keji Akinade moderated the event, questioning the panelists about their backgrounds, experiences at their respective firms in New York, and business opportunities and challenges in the energy sector in their home countries.
African Legal Fellow Njabulo Hlophe and Power Africa Legal Fellows Lotanna Nwodo, Ejemen Ofoman, and Belinda Ongong'a spoke about the legal landscape, energy sector and business opportunities in South Africa, Nigeria, and Kenya and fielded wide-ranging questions, concerning matters like investment in sub-Saharan Africa by Chinese state companies. Vance Center Africa Program Manager Adaobi Egboka made closing remarks.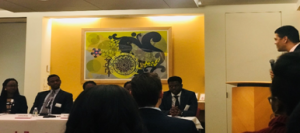 Tom Shropshire presenting the opening remarks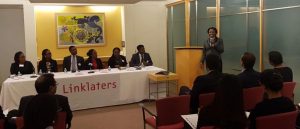 The Vance Center's African Legal Fellows Program, began in 2002 to bring South African lawyers from historically disadvantaged backgrounds to work in New York law firms and corporate legal departments in an effort to address the legacy of apartheid. Now with 51 alumni, the program expanded in 2016 to include lawyers from Kenya and Nigeria, and the Vance Center currently is exploring increasing it to include Ghana and Ethiopia.
As an offshoot of this program, the Power Africa Legal Fellows Program began in 2018 with a focus on energy lawyers in certain African countries.  Power Africa, a U.S. Government initiative, coordinated by USAID and comprised of about 160 public and private sector partners that have committed $54 billion to double access to electricity in sub-Saharan Africa, supports the program in its effort to strengthen the overall enabling environment of the African energy sector through policy and regulatory reforms.