Pro Bono Survey Shows Ever Growing Commitment to Pro Bono Practices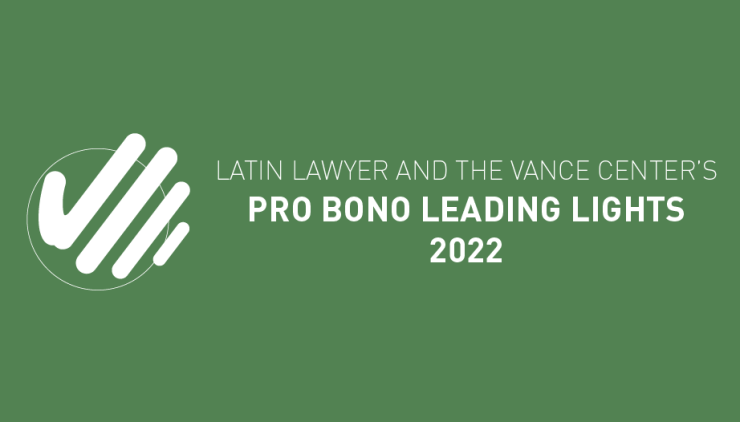 Latin Lawyer published this month the results of the 2022 annual survey of pro bono practice in Latin America, which it conducts jointly with the Vance Center.
In this 15th year of the survey, a record-breaking 213 law firms throughout the region responded, suggesting increasing law firm commitment to pro bono practice. Based on responses, Latin Lawyer and the Vance Center also identified 80 law firms for recognition as "Leading Lights" for their outstanding pro bono work.
The survey showed that pro bono work continues to be a priority for law firms. Despite the busy market conditions of 2022 – driven by the recovery from the Covid-19 pandemic – 49% of law firms said they took on more pro bono work, and lawyers dedicated similar amounts of time to pro bono cases compared to the previous year. Additionally, nearly a quarter of firms reported that they completed more than 1,000 hours of pro bono work in 2022, while a fifth reported that they completed more than 30 cases.
The annual pro bono survey is a key component of the Vance Center's commitment to promoting pro bono legal practice in Latin America and worldwide. Over 20 years, this has led to the formation of pro bono clearinghouses in 19 countries throughout the Americas, which have joined together as the Pro Bono Network of the Americas, co-led by the Vance Center and Fundación Pro Bono Chile. More than 560 law firms and other legal organizations throughout the region have committed to pro bono practice by signing the Pro Bono Declaration of the Americas. The annual survey has demonstrated a steadily growing fulfillment of this commitment.
The Vance Center thanks Committee members Werner Ahlers, Antonia Stolper, and Jaime Trujillo for their participation in the production of this year's survey.
The Leading Lights and the survey are available here.