"Judges as Peacebuilders" Discussion papers (English & Español)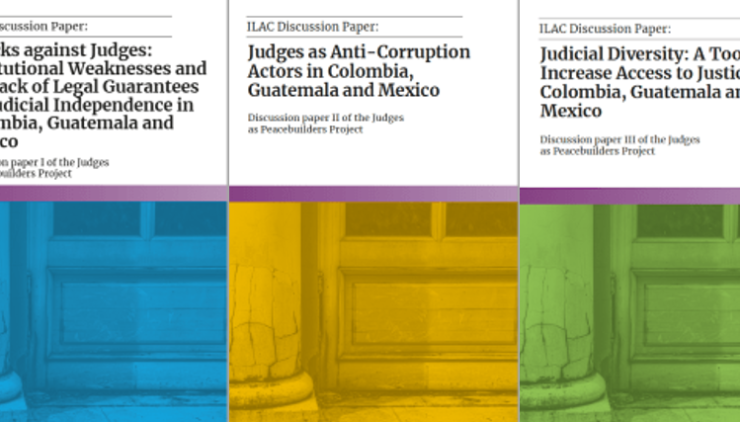 Ver en español más abajo
An independent and diverse judiciary is a key institution for the protection of rule of law and to combat corruption. This series of discussion papers on Latin America is a result of the Judges as Peacebuilders project and provides recommendations drafted by local partners from Colombia, Guatemala, and Mexico on how judges and judicial associations can increase judicial security, independence, and diversity, and counter corruption in Latin America. ILAC launched the papers at this year's World Justice Forum in The Hague, in collaboration with its members the Cyrus R. Vance Center for International Justice (Vance Center) and the International Association of Women Judges (IAWJ).
As a result of project-related dialogue sessions and roundtables with local judges and research into judicial security, independence, and diversity in each country, these discussion papers highlight key recommendations on supporting independent judicial associations to protect judicial independence, promote judicial diversity, and counter corruption:
Support and strengthen local judicial associations in their work to promote judicial independence, democracy, and a diverse judiciary, through financial and technical assistance such as training and exchanges and raising the visibility of threats against judges and administrators.
Organize exchanges to establish links between individual judges and judicial associations in the region and internationally to share experiences, develop professional camaraderie and standards, and build support for judicial integrity and safety.
Raise international attention to the threats to judicial independence – both on an individual and on a more institutional level – through monitoring reports, observatories, support actions through national and international networks, including the media.
Support local judicial associations with funding and technical assistance to promote diversity in the judiciary through mentoring programs for judges, especially newly appointed judges from underrepresented and vulnerable groups – not just women but also marginalized indigenous groups and Afro-descendant populations.

Español
Un poder judicial independiente y diverso es una institución clave para la protección del Estado de derecho y para combatir la corrupción. La serie de documentos de discusión sobre América Latina se basa en el proyecto Jueces como Constructores de Paz y brinda recomendaciones redactadas por personas que imparten justicia en Colombia, Guatemala y México sobre cómo las y los jueces y las asociaciones judiciales pueden aumentar la seguridad, la independencia y la diversidad judicial mientras luchan contra la corrupción en América Latina. ILAC presentó los documentos en el Foro Mundial de Justicia de este año, llevado a cabo en La Haya, en colaboración con sus miembros, el Cyrus R. Vance Center for International Justice (Centro Vance) y la International Association of Women Judges (IAWJ).
Como resultado de las sesiones de diálogo y las mesas redondas relacionadas del proyecto con jueces locales y la investigación sobre la seguridad, la independencia y la diversidad judicial en cada país, estos documentos de debate destacan recomendaciones claves sobre el apoyo a asociaciones judiciales independientes para proteger la independencia judicial, promover la diversidad judicial y combatir la corrupción:
Apoyar y fortalecer las asociaciones judiciales nacionales en su trabajo para promover la independencia judicial, la democracia y una judicatura diversa, a través de asistencia financiera y técnica, como capacitación e intercambios, y también aumentando la visibilidad de las amenazas contra los y las jueces.
Organizar intercambios para establecer vínculos entre las y los jueces y las asociaciones judiciales en la región e internacionalmente para compartir experiencias, desarrollar camaradería y estándares profesionales, y generar apoyo para la integridad y seguridad judicial.
Llamar la atención internacional sobre las amenazas a la independencia judicial, tanto a nivel individual como a nivel más institucional, a través de informes de seguimiento, observatorios, acciones de apoyo a través de redes nacionales e internacionales, incluidos los medios de comunicación.
Apoyar a las asociaciones judiciales nacionales con financiamiento y asistencia técnica para promover la diversidad en el poder judicial a través de programas de tutoría para jueces y juezas, especialmente las y los jueces recién nombrados de grupos vulnerables y subrepresentados, no solo mujeres sino también grupos indígenas marginados.