Vance Center Concludes Africa Pro Bono Series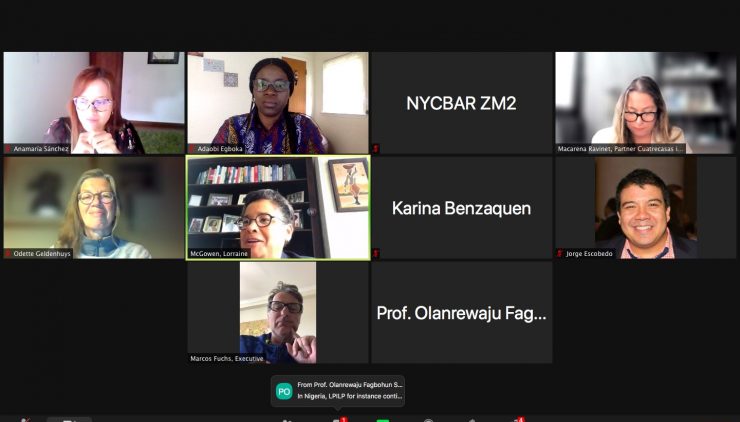 The Vance Center and its partners South Africa's ProBono.Org and Nigeria's Public Interest Law Partnership, and the Pro Bono Clearing House hosted the fourth and final installment of the Africa Pro Bono Series, along with members of the Pro Bono Network of the Americas. Entitled "Pro Bono: Comparing Regulatory Frameworks", the webinar discussed the regulatory challenges and opportunities to promote pro bono practice and culture in Nigeria, South Africa, Brazil, Chile, and Colombia.
Lorraine McGowen, New York City Bar Association Vice President, Orrick partner, and Vance Center Africa Sub-Committee member moderated the discussion with more than 40 participants from Africa, Latin America, and the United States.
Professor Olanrewaju Fagbohun, SAN, Former Vice-Chancellor of Nigeria's Lagos State University and Trustee of the Public Interest Law Partnership, explained that, while pro bono practice is not mandatory in Nigeria, lawyers engage in it through the Legal Aid Council of Nigeria, the National Youth Service Corps, NGOs, the Bar Association, and law firms. Pro Bono Declarations for the Nigerian Bar Association encouraged legal practitioners to provide pro bono services as facilitators of justice, although with no means of monitoring or enforcement for members. However, pro bono compliance is mandatory under the guidelines for the conferment of the rank of Senior Advocate of Nigeria (the highest rank for lawyers), requiring that applicants show evidence of at least three pro bono cases or some equivalent form of community service.
Odette Geldenhuys, partner at Webber Wentzel and founder of South Africa's ProBono.Org stated that South Africa has offered free legal services since the apartheid struggles. She explained that the pro bono rules used to require 20 hours/year for advocates and 24 hours/year for attorneys, but that the recent Legal Practice Act unifying the legal profession with all lawyers now called legal practitioners, introduces compulsory community service without the term 'pro bono.' She also described South Africa's current push for racial and gender inclusion, with various industries, including the legal profession, adopting sector-based charters to achieve this. Members of the legal profession are drafting a legal services charter with the main objective of making the profession more representative of South Africa's demographics, with pro bono practice featured as part of the draft to be adopted soon.
Marcos Fuchs, Executive Director of Instituto Pro Bono in Brazil, discussed the many challenges of pro bono practice in Brazil, including detailed regulations. He mentioned that until 2015 lawyers could not provide pro bono services, and now on a solely voluntary basis, they may help only  NGOs with limited resources.
Ana Maria Sanchez, director of Fundación Pro Bono Colombia, outlined the recent law passed by  Congress that, for the first time, provides for law students to offer academic legal services through the pro bono departments of law firms. Lawyers generally participate through the pro bono clearinghouse and have signed the Pro Bono Declaration of the Americas (PBDA)
Macarena Ravinet, partner at Cuatrecasas and President of the Board of Fundación Pro Bono Chile, shared that Chile has a friendly regulatory framework for pro bono work and was among the first Latin American countries to champion its practice through local pro bono initiatives and private law firms. Chilean laws do not prohibit or regulate pro bono practice and allow for legal guidance and assistance to anyone in need without any fee. In addition, the Chilean Bar Association's Code of Ethics encourages lawyers to support pro bono practice. She concluded that all lawyers who are part of the Fundación Pro Bono Chile had signed the PBDA.
All panelists concluded that clearinghouses play essential roles in training, providing access to justice, and promoting pro bono culture in the ecosystems of their and other countries.