Vance Center Expands Lawyers for Reporters Program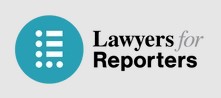 Lawyers for Reporters, the Vance Center's two-year-old collaboration with the Press Freedom Defense Fund, achieved notable milestones in its delivery of pro bono legal representation to local and mission-driven media in the United States:
LFR now has assisted 104 clients from 26 states, including 14 national nonprofit publishers;
121 lawyers from 24 law firms have co-counseled with LFR in its service delivery, pursuing the Vance Center's model of collaboration with law firms represented on the Vance Center Committee, as well as others;
Notable new LFR clients include:
In recent matters, LFR with Mayer Brown advised the Virginia Center for Investigative Journalism in a partnership with WHRO, the public radio broadcaster in Norfolk, Virginia.  With Baker & McKenzie, it advised The Digger in a favorable resolution of a defamation claim.  LFR also has begun representing publishers from Afghanistan who have relocated to the United States to continue to report on news from that country, as well as a human rights monitoring organization from Venezuela.
LFR also expanded its team, with the addition of Sean Phee as Program Assistant, responsible for case management and coordination of client and law firm communications.  Phee previously worked as Data Control Specialist at the Office of the New York County District Attorney and as Data Specialist at John Dunham and Associates.  He graduated from Southern Illinois University and attended Columbia University School of Professional Studies.
LFR recently received renewed funding from the Bay & Paul Foundations and First Look Institute and commitment of further funding from the Democracy Fund.