Vance Center Initiates Inquiry to Secretary of State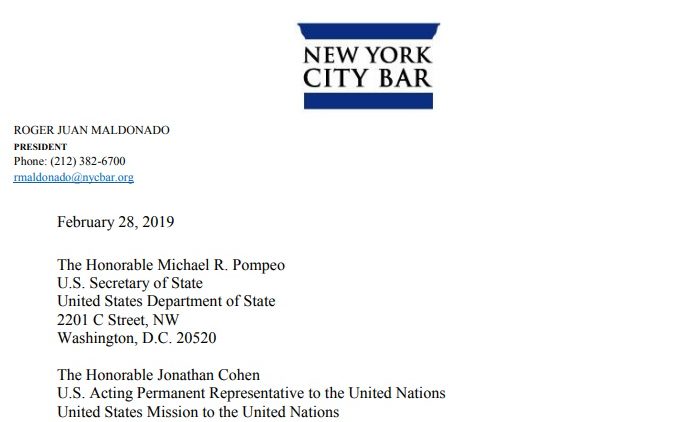 The New York City Bar Association President, at the suggestion of the Vance Center, has written to U.S. Secretary of State Mike Pompeo and Acting U.S. Ambassador to the United Nations Jonathan Cohen, inquiring about the apparent U.S. government decision to cease responding to communications from the human rights experts of the United Nations Human Rights Council who are called "special procedures".  The letter is available here.
Since May 2018, the current U.S. administration has failed to respond to 17 communications, while previously it had responded to 70% of those communications, a higher rate than that of the previous U.S. administration.  The communications consist of requests for information about U.S. government policies and practices regarding international human rights, as well as for permission to visit U.S. official and other locations in this country.
The "special procedures" are individual, or groups of, experts who serve without compensation to assist the U.N. Human Rights Council to verify compliance with international human rights, such as prevention of torture and securing a healthy environment.  The Vance Center for many years has provided pro bono legal support to several "special procedures", working with law firms through its pro bono representation program.
In the letter, President Maldonado requested an explanation for the apparent decision to cease responding to the communications.  He asserted that such refusal damages global protection of human rights, as well as U.S. national security interests: the United States is unable to explain or justify its policies and practices and thus faces a risk of unwarranted criticism; and other countries may take the refusal as an example and justification for not responding themselves, potentially concealing and encouraging human rights violations against U.S. citizens and interests abroad.
The current U.S. administration withdrew from the U.N. Human Rights Council in June 2018, but in its announcement did not refer to its policy regarding responding to "special procedures" communications.  The Vance Center learned of this apparent policy change in an article in the Guardian, which led to several other organizations expressing concern, including Freedom House, Amnesty International, and Human Rights Watch. The Vance Center began and is continuing an investigation into this matter and will report further.