Vance Center Joins Celebration of Fundación Pro Bono España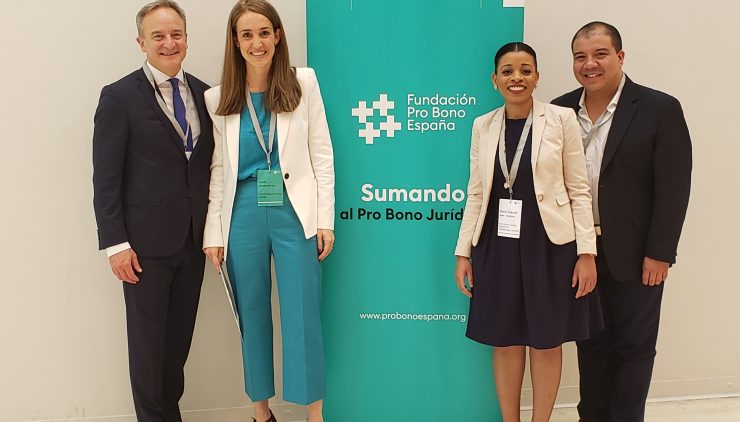 (From left: Todd Crider, Leire Larracoechea, Marie-Claude Jean-Baptiste and Jorge Escobedo | Photo Credit: Marie-Claude Jean-Baptiste)
Vance Center Programs Director Marie-Claude Jean-Baptiste and Pro Bono Partnerships Director Jorge Escobedo attended a celebration of the founding one year ago of Fundación Pro Bono España in Madrid, Spain. At the celebration, the Fundación staff and board of directors reported on key achievements during the first year and reflected on opportunities and challenges ahead. More than 150 members of the Spanish legal profession and pro bono colleagues from across Europe and the Americas attended the event.
The Fundación's executive director and co-founder, Leire Larracoechea, is a former Director of Pro Bono Partnerships at the Vance Center and its effort to support the establishment of the organization as part of its mission to internationalize pro bono practice. The Fundación ended its first year on a high note: 37 law firms and universities are now members, and they have completed 14 pro bono projects linking NGOs in need of legal services with legal professionals.
Vance Center Committee member and founding chair Todd Crider joined a panel discussion on Challenges Ahead for Pro Bono. He highlighted the Vance Center's contribution to the promotion of pro bono practice in Latin America and beyond, including its support for the creation of Fundación Pro Bono España.