Vance Center Joins Conversation on South Africa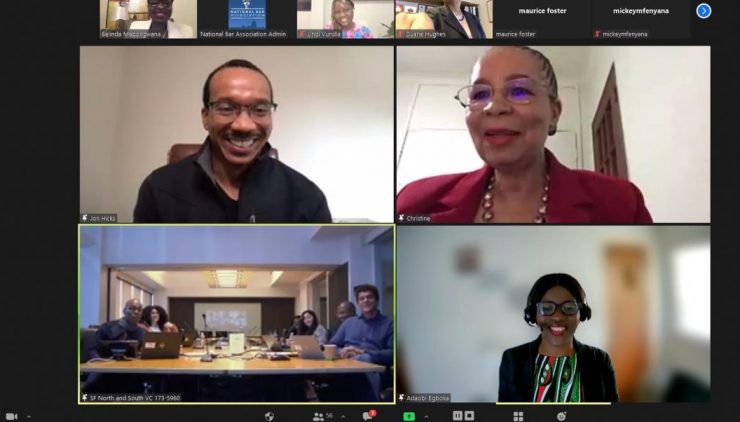 The Vance Center co-sponsored a virtual event with Orrick, Netflix, the National Bar Association, and Mapongwana Attorneys entitled "Together We Strive: Discover Better Practices from South African and US Legal Professionals."  More than 60 professionals from South Africa and the United States considered how individuals and companies can contribute to creating a more equal society.
The keynote panel discussed the life and struggles of Christine Qunta, a renowned South African lawyer, writer, and entrepreneur. Speaking with moderator Jon Hicks, Senior Counsel, Employment Law at Netflix, Qunta described growing up in South Africa as a Black woman and facing the challenges of studying amidst discrimination. She recounted her activism in the anti-apartheid Black Consciousness Movement and her time in exile for over 15 years, studying and practicing law in Australia, Botswana, and Zimbabwe, before returning to South Africa.
Qunta related her motivations for writing many of her books, including "Who's Afraid of Affirmative Action: A Survival Guide for Black Professionals," and her recent book "Why We Are Not a Nation: Essays on Race and Transition in South Africa." She concluded by advising how Black lawyers can create social change for the Black communities in South Africa and the United States. Belinda Mapongwana, the founder of Mapongwana Attorneys and an alumna of the Vance Center's African Legal Fellow Program, described that Qunta inspired many Black women attorneys in South Africa, particularly for starting her own law firm early in South Africa's post-apartheid history.
After the keynote panel, small group discussions moderated by Duane Hughes, Orrick's Managing Director, Inclusion and Client Relationships; Vance Center's Africa Program Manager Adaobi Egboka; Mapongwana; and Hicks analyzed how issues in litigation, antitrust, media and technology, and intellectual property impact business in South Africa. The groups had key subject matter discussants, including African Legal Fellows Program alumna Lindi Atieno Vundla.
In closing, Hughes thanked the Vance Center for continuing the proud tradition of the African Legal Fellows Program. He worked with and mentored Belinda Mapongwana at Morgan Stanley in 2008-2009 and has since kept in touch with her. The Vance Center's African Legal Fellows Program, which started in 2002 as the South Africa Visiting Lawyers Program, has so far brought 60 lawyers from South Africa, Nigeria, and Kenya to New York City law firms and corporate legal departments for 6-12 months to work on complex cross-border transactions, acquire new legal and business skills, and develop their professional networks.