Vance Center Joins in the World Justice Forum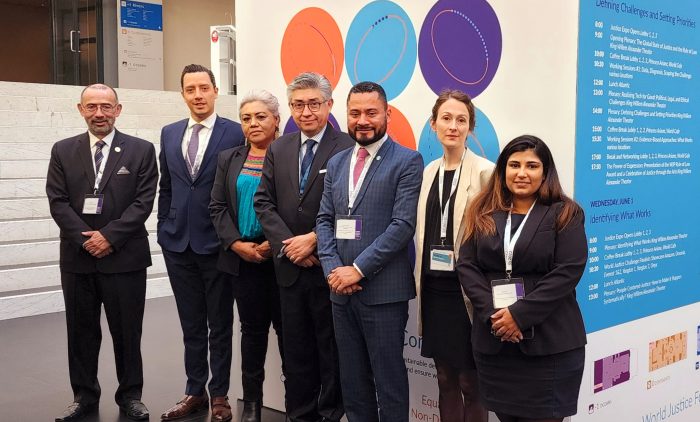 [Photo credit: Jaime Chavez Alor]
Latin America Policy Director Jaime Chavez Alor participated in the World Justice Forum at The Hague, joining in a workshop session organized by the Vance Center,  the International Legal Assistance Consortium (ILAC), and the International Association of Women Judges (IAWJ) The organizers presented three discussion papers from the project "Judges as Peacebuilders" and discussed some of the main recommendations with participants in the workshop.
The project aims to promote peace and social stability through supporting and empowering judges and other justice sector actors in their efforts against corruption and impunity while upholding judicial independence. The project has included virtual and in-person roundtables with judges in Colombia, Guatemala and Mexico concerning three thematic areas: judicial security, anti-corruption within the judiciary, and judicial diversity.
Magistrate Hermens Lara from the Colombian Corporation of Judges and Magistrates, Judge Carlos Ruano from the Guatemalan Association of Judges for Integrity, and Magistrate Indalecia Pacheco from the Mexican Chapter of the International Association of Women Judges joined in the workshop and presented some of the main challenges judges face in their respective countries. Commissioner Joel Hernandez of the Inter-American Commission on Human Rights also participated and underlined the importance of the project to support judges in the region. The video of the workshop is available here.
The three discussion papers (the first two authored by Chavez Alor) focused on:
Attacks against judges – institutional weakness and lack of legal guarantees for judicial independence in Colombia, Guatemala and Mexico
Judges as anti-corruption actors in Colombia, Guatemala and Mexico
Judicial Diversity: A Tool to Increase Access to Justice in Colombia, Guatemala and Mexico
The papers reviewed and summarized findings from discussions with more than 50 judges in the three countries and offered a series of recommendations to enable national, regional, and international civil society organizations, human rights activists, lawyers, embassy officials and others to improve their advocacy for reform. The project partners expect that the papers and recommendations (both technical and policy-related) will inform the design of new initiatives by the participants in Colombia, Guatemala and Mexico.
The discussion papers are available in English and Spanish here.