Vance Center Joins Statements on Judicial Threats in Guatemala and Mexico, Moves Ahead with Guatemalan Judge's Case at Inter-American Commission
This month, the Vance Center joined two New York City Bar Association statements on judicial independence and threats against the judiciary in Mexico and Guatemala.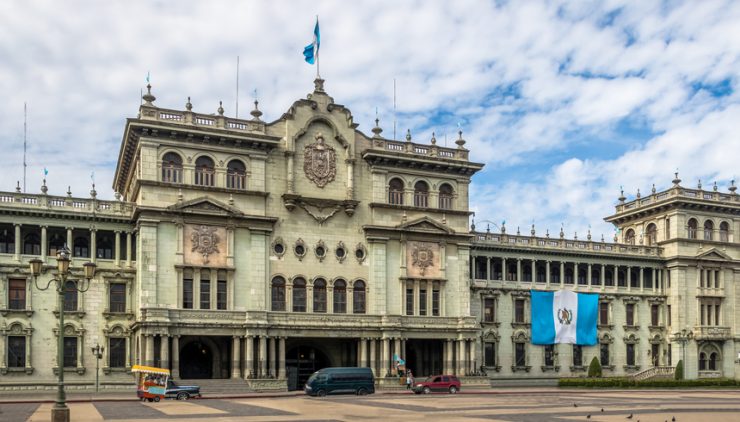 Guatemala National Palace, Guatemala City. (Photo credit: Shutterstock)
In a "Second statement condemning the Mexican President's attacks on judicial independence," published in English and Spanish on April 24, the City Bar expressed grave concern about Mexican President Andrés Manuel López Obrador's intensifying attacks against the country's judiciary, especially his recent targeting of Norma Piña, the first woman president of Mexico's Supreme Court of Justice. This report follows an August 2022 statement condemning President López Obrador's remarks about opening investigations into judges who have issued decisions contrary to the government's interest, and urging the Mexican government to respect judicial independence in accordance with international law and Mexico's international commitments. 
On April 18, the City Bar released a "Statement on the criminalization and sentencing of Virginia Laparra and other anti-corruption prosecutors and judges in Guatemala," in English and Spanish. The report extensively details the case against Laparra, who has been detained since February 2022, and denounces the continued persecution and criminalization of anti-corruption prosecutors and judges in Guatemala. It calls on Guatemalan authorities to immediately release Laparra from prison, dismiss the unwarranted and unlawful criminal proceedings against her, and ensure that any disciplinary action taken against her and other justice operators who handle corruption cases be lawfully based and include all the protections of due process.   
This is the latest in a series of New York City Bar Association statements raising alarm about escalating criminal harassment of justice operators in Guatemala. In July 2022, the City Bar released a statement expressing grave concern about harassment targeting lawyers, judges, prosecutors, and former prosecutors who have handled corruption cases.  
In February of that year, Vance Center joined a City Bar statement calling on Guatemalan authorities to take action to protect high-profile anti-corruption Judge Erika Aifán from harassment and to ensure that any disciplinary action taken against her and other judges handling corruption cases be properly administered and accorded all the protections of due process. However, the April 2023 publication notes that "unfortunately, the attacks, harassment, and arrests have continued to escalate," weakening the rule of law and reinforcing an environment of impunity. 
Both statements this month received significant coverage from Mexican and Guatemalan print and digital media outlets. 
**** 
This month also saw an important update in Judge Aifán's case before the Inter-American Commission on Human Rights.  
The Vance Center, as co-counsel with pro bono attorneys from the firm King & Spalding, in October 2021, asked the Commission to accept Judge Aifán's case, to expedite it by collapsing the usual two procedural stages (admissibility and merits) into one, and to rule that her rights were violated. The petition alleged that her case is part of a broader pattern of systematic attacks on the independence of the judiciary in Guatemala. 
Earlier this month, the Commission granted an important procedural victory, agreeing to combine the admissibility and merits phases of Judge Aifán's case, which could shorten the process by more than a year. The legal team's brief (called a "Memorial" in international proceedings) is due to the Commission in August. 
In the last five years, more than 25 anti-corruption judges, prosecutors and jurists have been forced to flee Guatemala, many seeking political asylum in the U.S. In December 2022, together with King & Spalding, the Vance Center filed a request by 13 other Guatemalan jurists to join Judge Aifan's case before the Commission.  
While the cases of the other jurists are not as far along, the Vance Center plans to present their testimonies as evidence in Judge Aifán's case to demonstrate the broader pattern of State and State-tolerated harassment of the judiciary in Guatemala.