Vance Center and Kenyan Partners Launch Pro Bono Institute of Kenya
The Vance Center, along with its Kenyan implementation partners Strathmore Law School and Kenyatta University School of Law, last month launched Kenya's first clearinghouse.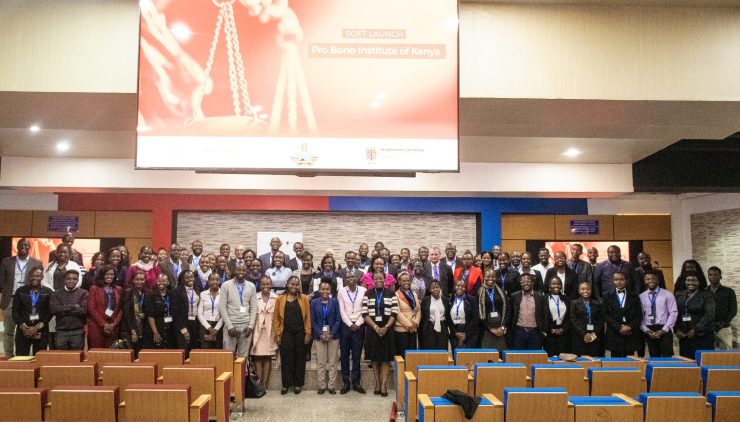 Attendees at the PBIK launch event in Nairobi, April 28, 2023. (Photo credit: Strathmore Law School)
The Pro Bono Institute of Kenya (PBIK) will act as an intermediary between Kenyan civil society organizations in need of legal advice and support, and advocates who wish to dedicate their expertise and time to provide pro bono legal services. PBIK will leverage the Vance Center's more than 20 years of experience in the field, coupled with local support from its implementing institutions, the Strathmore Legal Aid Clinic and Kenyatta Law School Clinic. 
The clearinghouse launch is a result of discussions that began following a visit to Kenya by the Vance Center's Africa Program Director Adaobi Egboka in March 2019, and another visit in August of that year by Vance Center Committee Executive Chair Ted Maynard and Africa sub-Committee Chair Inosi Nyatta to discuss institutionalizing pro bono practice in Kenya. Those visits led to many months of further discussion of pro bono structures and networks, and the need for a clearinghouse to serve as a hub to support civil society in addressing legal challenges by deepening and institutionalizing pro bono culture within law firms and companies. The clearinghouse launch makes Kenya the third African country in which the Vance Center works with national clearinghouses, joining South Africa and Nigeria, and the first time it has played an integral role in establishing one. 
The April 28 launch drew more than 80 people, including many founding members of the institute, a group comprising representatives of law firms, civil society organizations, academic institutions, and government agencies. The event started with welcome remarks from representatives of the Kenyan PBIK implementation partners. Patrick Nzomo, Strathmore Law Clinic's faculty director, welcomed the attendees and noted that the PBIK represents a major win for Kenyans seeking justice by bringing together key stakeholders within the pro bono ecosystem. Wambui Njogu, Lecturer and Legal Aid Coordinator at Kenyatta University School of Law, highlighted the learning opportunities PBIK can offer law students and expressed her hope that PBIK would join existing clearinghouses in other African countries to spearhead development of a consortium of African clearinghouses.
Egboka outlined the Vance Center's history of work on pro bono promotion and representation in Latin America and across the globe, and its aim in launching a clearinghouse in Kenya to enable effective collaboration of pro bono actors and institutionalize pro bono work within firms. She shared video messages from pro bono clearinghouses in Nigeria and South Africa congratulating their Kenyan counterparts on the PBIK launch, and recounted the Vance Center's efforts around pro bono promotion in Africa through partnership with clearinghouses in those two countries.  
Honorable Jackie Kibosia, Principal Magistrate and Member of the National Council for Administration of Justice, representing Honorable Justice Teresia Matheka, delivered the event's keynote address. Reflecting on her more than 20 years of experience in the field, she highlighted key issues affecting service delivery and called on PBIK to provide guidance for young lawyers and correct the mistaken notion that pro bono equates to poor service by ensuring its providers' pro bono done is as high-quality as their billable work.  
Assunta Ndami, PBIK's consultant in Kenya, presented on the institute's progress and key milestones including a baseline survey, recruiting volunteers and assigning pro bono projects to law firms and in-house counsels. The baseline survey is one of PBIK's first initiatives, aimed at identifying and understanding gaps in access to justice, the needs of relevant stakeholders, and defining how the clearinghouse will operate. 
PBIK has so far allocated projects in various areas of law, including sports, media and intellectual property, human rights, criminal law, and business transaction advisories. Ndami noted that PBIK received 71 volunteer intern applications from students and young graduates from across East African universities and has shortlisted five volunteers.    
Its current members include 49 entities comprising 23 civil society organizations, 18 law firms, five in-house counsel, and three academic institutions, most of whom are founding members and/or belong to different Committees.   
Ndami's presentation was followed by a panel discussion on "Improving Access to Justice through collaborative approach: Beneficiaries and Providers' Experiences and Perspectives," moderated by Egboka and Elizabeth Njambi, Founder of Wakili.sha, and member of the PBIK Launch Planning Committee. Panelists Benard Onyikwa, partner at T&O Advocates, and Kellen Maganjo, associate at Bowmans, answered questions on case allocation and their experiences working on pro bono legal projects. PBIK beneficiaries Elizabeth Odondi, founder and chair of Social Justice League, and Paul Mwandikwa, Head of Programs at the Center for Domestic Training and Development, discussed how PBIK has supported their community-based work and encouraged PBIK to continue ensuring diversity in its projects and covering grassroots organizations outside major cities. 
Strathmore Law Clinic coordinator Elvis Cosmos presented PBIK's six-month plan for fundraising, peer-to-peer activities, quarterly founding member meetings, recruiting a full-time coordinator, assigning projects, and incorporating technology via a case management system. The event ended with closing remarks by Elizabeth Wanjiru, Faculty of Law at Kenyatta University, followed by a cocktail reception. 
********************** 
While in Kenya, Egboka met with other local partners, including NGOs, law firms, fellows, and universities. In a meeting with the Law Society of Kenya's leadership team, including the bar association's new president and vice president, participants discussed new areas of collaboration between the Vance Center and bar associations on cross-border capacity-building projects, partnership with the PBIK, research, international pro bono legal support on its cases, among other possibilities. Egboka also visited and addressed the growing Kenyan chapter of Women in the Profession (WIP), which joins other WIP chapters in Africa and Latin America to advance issues impacting women in the field and use the legal practice to enhance the status of women and ensure their equal protection under the law.