Vance Center Organizes Anti-Corruption Roundtable in Mexico City
On May 9, the Vance Center convened a roundtable discussion in Mexico City entitled "Analysis of the Implementation of USMCA Chapter 27: Anti-corruption."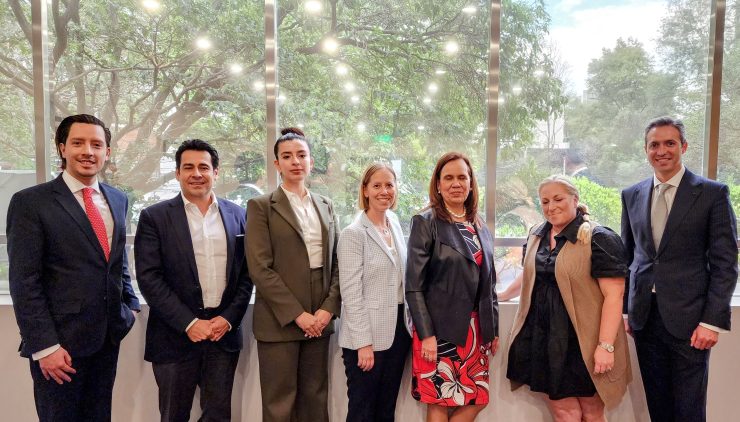 Organizers and participants in the Vance Center's USMCA anti-corruption roundtable discussion in Mexico City, May 9, 2023. (Photo credit: Jaime Chávez Alor)
The event drew a diverse set of participants, including public officials from specialized anti-corruption agencies, anti-corruption and compliance lawyers, members of civil society organizations, and employees of private sector companies, as well as experts in implementation of Chapter 27 of the United States-Mexico-Canada Agreement (USMCA). 
Diego Sierra, partner at Von Wobeser, co-organized the event, representing the Mexican Bar Association and the Anti-Corruption Commission of the International Chamber of Commerce Mexico. Vance Committee member Ruti Smithline, partner at Morrison & Foerster, and Shearman & Sterling partner Sara Raisner brought a U.S. perspective to the discussion, which was moderated by Vance Center Latin America Policy Director Jaime Chávez Alor.
Public officials in attendance were Special Anti-Corruption Prosecutor Dr. María de la Luz Mijangos and Roberto Moreno, Executive Secretary of the National Anti-Corruption System (SESNA), the technical support body of the anti-corruption system's Coordinating Committee.   
The frank, open conversation covered a range of topics such as the background and negotiation of Chapter 27, international cooperation, joint work between agencies, challenges, and opportunities for implementation. Key issues included: 
Non-judicial resolutions, their differences within the Mexican and U.S. systems, and the problems of unconstitutionality and lack of uniformity of corrupt conduct; 
The lack of protection and incentives for whistleblowers in Mexico, and opportunities to promote whistleblowing; 
The role of Mexico's federal and state Anti-Corruption Prosecutor's Office and the issue of reparatory agreements, as well as arrangements between the government and companies; 
Moving toward a culture of compliance, integrity, and anti-corruption behavior within the private sector.  
Participants expressed their intention to continue supporting the fight against corruption in critical areas where it can have an impact, such as whistleblower protection. 
The Vance Center, with support from the Chubb Rule of Law Fund, is producing a policy brief that will offer guidance to law firms, bar associations and other groups on specific efforts to implement USMCA Chapter 27.