Vance Center Staff Expands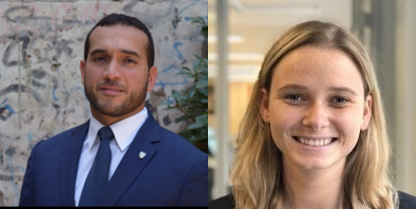 The Vance Center team has expanded to thirteen with the addition of two staff members.
Emily Reers joined as Fundraising Manager, the first full-time development position in the Vance Center's near 20-year history.  In this role, she will lead the organization's fundraising planning and implementation, along with the fundraising sub-committee of the Vance Center Committee.  She previously worked for more than three years at Physicians for Human Rights, most recently as Institutional Development Manager, and at Equal Exchange.  She received her BA in Public and Community Services Studies and Political Science at Providence College.
Carlos Ruiz Hernandez joined as Latin America Policy Officer, supporting programs to strengthen judicial independence in the region and other initiatives of the Lawyers Council for Civil and Economic Rights. He brings to the Vance Center international policy experience in the Americas dealing with various stakeholders in the region in both the private and public sectors. He previously served as the Panamanian ambassador, deputy permanent representative to the United Nations, where he engaged on thematic issues that included regional economic and political integration. Most recently, he worked as a researcher under the direction of Dr. Piero Gleijeses at the Johns Hopkins University School of Advanced International Studies. He holds an LL. B from Universidad Catolica Santa Maria La Antigua, an LL.M.  From Tulane University Law School, and a master's degree in International Public Policy from Johns Hopkins University. He is a native Spanish speaker.