Vance Center Welcomes New African Legal Fellows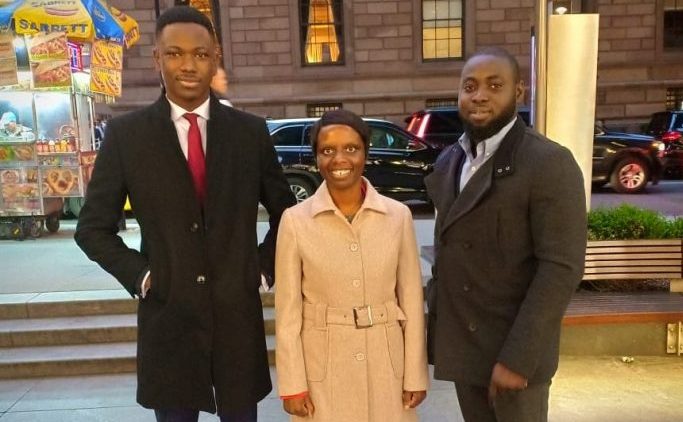 (From left: Oshokha Momoh, Cindy Oraro and Oladimeji Ojo | Photo Credit: Cindy Oraro)
The Vance Center is continuing its flagship African Legal Fellows Program for the 18th year and its partnership with Power Africa for the second year, welcoming new Fellows at law firms in New York. Three Power Africa Legal Fellows from Nigeria and Kenya and one African Legal Fellow from South Africa will spend up to one year in New York steeped in New York-style corporate and pro bono practice.
Power Africa Legal Fellows Oladimeji Ojo from Nigeria, Cindy Oraro from Kenya, and Oshokha Momoh from Nigeria have started to work respectively at Paul, Weiss, Shearman & Sterling, and Baker McKenzie. African Legal Fellow Mashudu Thidiela Nonkwelo from South Africa will join Weil Gotshal in January 2020.
The Vance Center African Legal Fellows Program since 2002 has brought 60 Fellows from South Africa, Kenya, and Nigeria to work in leading New York law firms and corporate legal departments and return to practice in their home countries with greater skills and contacts. The Vance Center's partnership with Power Africa, a USAID-led inter-US-government initiative to increase electrification in sub-Saharan Africa, has brought six Power Africa Legal Fellows into the program in the past two years to focus on energy-sector-related transactions.
Meet the 2020-2019 Fellows:
Oshokha Michael Momoh, a Power Africa Legal Fellow at Baker McKenzie, comes with expertise in energy and aviation law from George Etomi and Partners, Nigeria. He has an LL.B from the University of Buckingham, United Kingdom, and is admitted to the Nigerian Bar.
Cindy Oraro, a Power Africa Legal Fellow at Sherman & Sterling, comes from Oraro & Company Advocates, Kenya, where she specializes in energy, infrastructure, and project finance. She has her LL.M from the University of Bristol and LLB from Durham University, UK, and a diploma from the Kenya School of Law.
Oladimeji Ojo, a Power Africa Legal Fellow at Paul Weiss, comes from Aluko and Oyebode, Nigeria, where he is a senior associate in the litigation and arbitration department. He has an LL.B from the University of Lagos, B.L from the Nigerian Law School and LL.M from the University of Aberdeen, United Kingdom.
Mashudu Thidiela Nonkwelo, will join Weil Gotschal as an African Legal Fellow in January 2020. He comes from Cliffe Dekker Hofmeyr's Johannesburg office, where he specializes in banking and finance as well as corporate mergers and acquisitions. He received his LL.B at the University of Witwatersrand, South Africa, and LL.M from Columbia Law School. He is a member of the Law Society of South Africa and admitted to New York bar.