Evaluación Anticorrupción en Latinoamérica 2020
Latin America Anticorruption Assessment 2020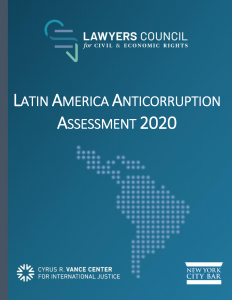 The Latin America Anticorruption Assessment 2020 is a regional study involving eight countries (Argentina, Brazil, Chile, Colombia, Guatemala, Mexico, Panama, and Peru), which delineates legal efforts to prevent and combat corruption. Unlike other efforts that focus on measuring corruption or its perception, this study follows a strictly legal approach to analyze legislative and regulatory efforts, in addition to the institutional framework, aimed at preventing, targeting, and prosecuting corruption. This report addresses the perspective of legal professionals (hereinafter "LP" or "legal professionals") engaged in anti-corruption practice in various sectors, including law firms, businesses, academia, civil society organizations (hereinafter "CSOs"), human rights defenders, and others.
This study addresses for each of the countries reviewed, eight aspects that are key to the fight against corruption: public and private sector corruption; complaint mechanisms; and whistleblower protection specialized governmental bodies; institutional coordination mechanisms; civil society engagement and participation; and transparency and access to information.
The information obtained through two questionnaires completed by lawyers from member firms of the Lawyers Council for Civil and Economic Rights (hereinafter the "Lawyers Council") and members of the legal community of the countries evaluated, was divided into three categories: legal framework; implementation; and governmental bodies. With this information, in accordance with the methodology developed, a final overall score awarded to each country was calculated on a scale from zero (0) to ten (10), where zero is the lowest score and ten is the highest. Of the overall ratings, Chile scored the highest and Guatemala scored the lowest.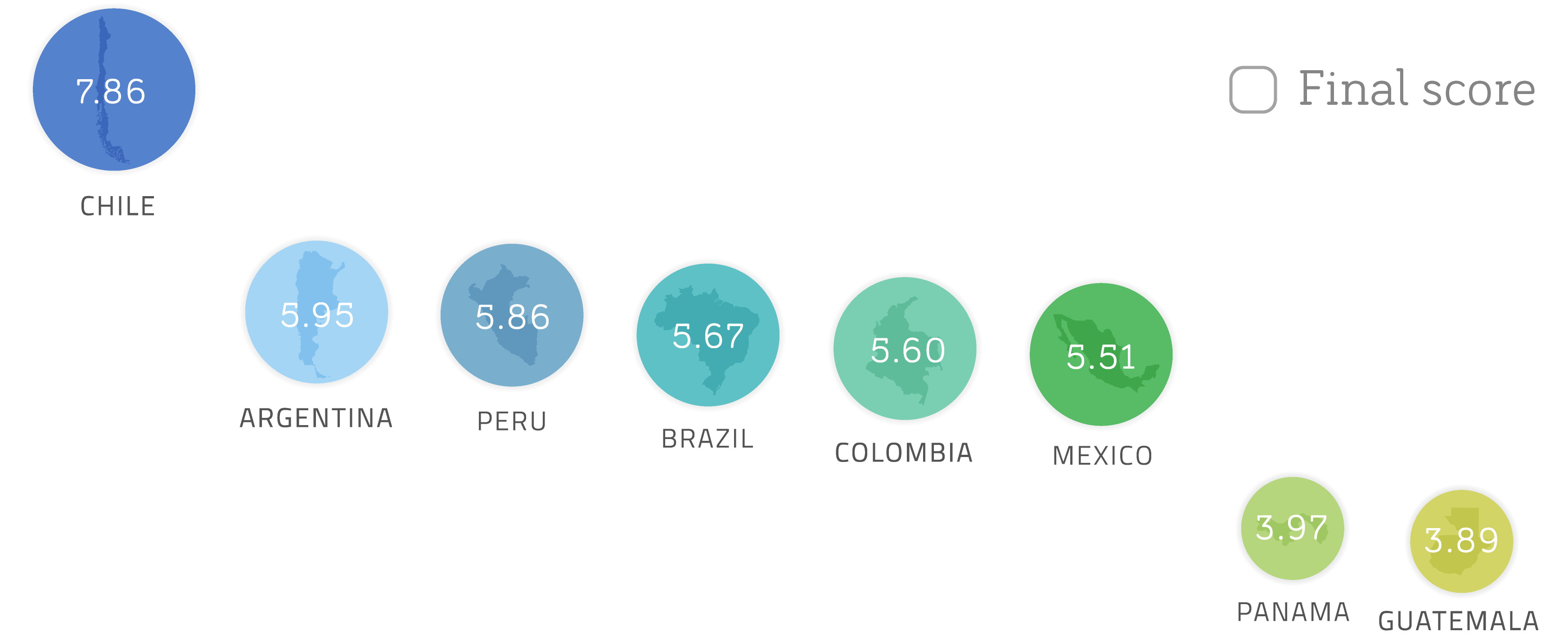 This report highlights the following findings: Argentina legal framework is generally satisfactory, but its most significant shortcoming involves inadequate regulatory implementation resulting from the lack of (i) political will; (ii) political independence of the anti-corruption agencies; (iii) economic and human resources; and (iv) formal mechanisms for civil society engagement and participation.  Brazil's legal framework has notably improved but, in addition to undue political influence and a lack of political will to effectively implement the anti-corruption legal framework, there is a need to establish corporate criminal liability in connection with acts of corruption. Chile's regulatory framework is generally effective, and the governmental agencies and authorities have the capacity and political independence to effectively implement the anti-corruption regime.  Colombia displays a lack of implementation due to lack of political will and absence of mechanisms for detecting and preventing corruption.
In Guatemala, the legal framework is deficient and is characterized by significant institutional weakness. Anti-corruption efforts are led by certain individual government officials rather than by institutions.  Despite having a solid and comprehensive legal framework, Mexico stands out for a lack of regulatory implementation and reduced institutional capacity. In addition, anti-corruption authorities are subject to political influence. Despite being the only jurisdiction that maintains a beneficial ownership registry, Panama displays a deficient legal framework and a lack of institutional capacity and fundamental elements required to combat corruption. Finally, Peru has one of the strongest legal frameworks, but its implementation is negatively affected by flaws in procedural rules and a lack of political will.
This regional analysis shows that most Latin American countries follow an ex-post approach of sanctioning corruption through the criminal system. Yet, preventive efforts to reduce corruption, in both the public and private sectors, are insufficient. Similarly, important factors to countering corruption, including institutional coordination mechanisms, incentives to file complaints, and rules providing for community engagement and participation in anti-corruption efforts are practically non-existent or minimal.
Anti-corruption mechanisms and efforts in the public sector are focused on the executive branch, and largely absent in other governmental agencies and institutions. Regarding corruption in the private sector, most countries have anti-corruption compliance programs in place. However, their implementation is optional and, except in one instance, there are no clear compliance and enforcement guidelines available.
With regard to implementation of the anti-corruption legal framework, both the lack of political will and of independence of institutions were identified in most countries as the main obstacles in preventing, targeting and punishing corruption. In some countries, the lack of political independence of the judiciary and criminal prosecutors, and the need for more human and financial resources essential to countering corruption, are of great concern. Although there are significant advances in transparency as a mechanism to prevent corruption, only Panama has regulation in place and is making efforts to maintain records of beneficial ownership of firms. Finally, in no country was there an emphasis on human rights in the fight against corruption. This has broad implications in the exercise of the rights of victims of corruption and in their ability to obtain redress as a result.
The country and regional recommendations in this report are a call to action for the legal community to address the above-mentioned challenges. These recommendations highlight the importance of promoting the use of technology in the development and implementation of mechanisms to prevent corruption, regional cooperation and the involvement of the private sector and the legal community in promoting best practices and establishing an anti-corruption rapporteur within the Inter-American Human Rights System.