Bogotá Conference Explores the Future of Pro Bono and Access to Justice in the Americas, Commemorates Vance Center's 20th Anniversary
On March 21, the Vance Center convened leading pro bono practitioners from across the Americas at a conference in Bogotá, Colombia, to assess the state of pro bono in the Americas and celebrate the Vance Center's 20th anniversary.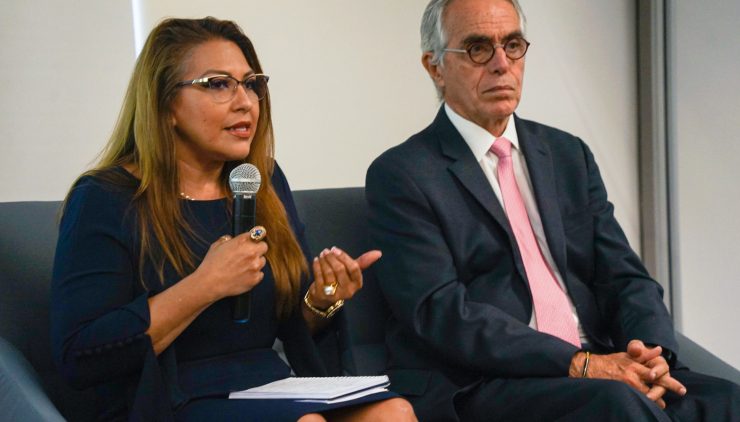 Panelists Judge Adriana Orocú and Diego García-Sayán. (Photo credit: Lucca Cano Photo)
The Vance Center and the Pro Bono Network of the Americas organized the conference, entitled "Trabajo Pro Bono para el fortalecimiento de la justicia," in collaboration with Fundación ProBono Colombia and the Universidad del Rosario, with additional support from the Hanns Seidel Stiftung foundation.   
The afternoon began with welcome remarks from Vance Center Committee Vice Chair for Latin America Antonia Stolper and Laura Victoria García, dean of the Universidad del Rosario law school, followed by two panels that explored how the legal community can expand pro bono work and continue mobilizing on behalf of critical issues, including access to justice and the right to a safe, healthy and sustainable environment. 
In the first panel, moderator and Vance Center Latin America Policy Director Jaime Chavez Alor led a conversation on the connection between judicial independence and access to justice in Latin America. The panelists – Judge Adriana Orocú, president of the Latin American Federation of Magistrates (FLAM); Erick Rincón Cárdenas, professor and director of TicTank at the Universidad del Rosario; and Diego García-Sayán, former United Nations Special Rapporteur on the independence of judges and lawyers and former president of the Inter-American Court of Human Rights – discussed the threats and challenges impeding access to justice in the region, and ways in which the legal community can help protect this right, especially through pro bono work.  
The afternoon's second panel, led by Pro Bono Network of the Americas co-coordinator Constanza Alvial, delved into questions around ESG goals and environmental rights. Vance Center Environment Program Director Susan Kath; Vivian Liberman, partner at BLP in Costa Rica; Luis Fernando Macías, partner at PPU; and Universidad del Rosario law professor Lina Muñoz Ávila held a lively discussion of the current state of pro bono work on environmental and climate issues and what more the legal profession can – and should – do in this area. 
Following the panels, Stolper and Vance Center Committee Executive Chair Ted Maynard presented Fundación ProBono Colombia board president Paula Samper Salazar with a special recognition for her years of efforts to support and encourage pro bono work in Colombia. The evening concluded with closing words from Samper and Maynard, followed by a reception. 
The conference, hosted at Baker McKenzie's Bogotá offices, drew more than 100 attendees, including lawyers, public sector officials, academics, law students, and representatives of bar associations from more than 15 countries, as well as Vance Center Committee members Jaime Trujillo and Werner Ahlers. In addition to marking the Pro Bono Network of the Americas' annual event focused on access to justice, the afternoon was another opportunity for the Vance Center to recognize international partners' work in the region and continue a series of 20th anniversary celebrations that began in New York in October 2022.  
See more photos from the Bogotá event here.  
xxxx
Later that week, the Vance Center's Lawyers Council for Civil and Economic Rights held its annual meeting with participants from Chile, Costa Rica, Mexico, Panama, Peru, the United States, and Uruguay, in Cartagena. The Council presented a progress update and commented on initiatives to implement the Latin America Anti-Corruption Assessment recommendations and strengthen regional judicial independence through assessments in nine countries. Council members also offered input on events planned for May and June to implement some of the initiatives and noted the importance of tying anti-corruption work to regional efforts focused on media freedom, given the key role of independent media in reporting on corruption cases.