Reporters Shield Highlighted at Conferences on Human Rights, Investigative Journalism
This fall brought opportunities to introduce Reporters Shield to diverse audiences at events across two different continents.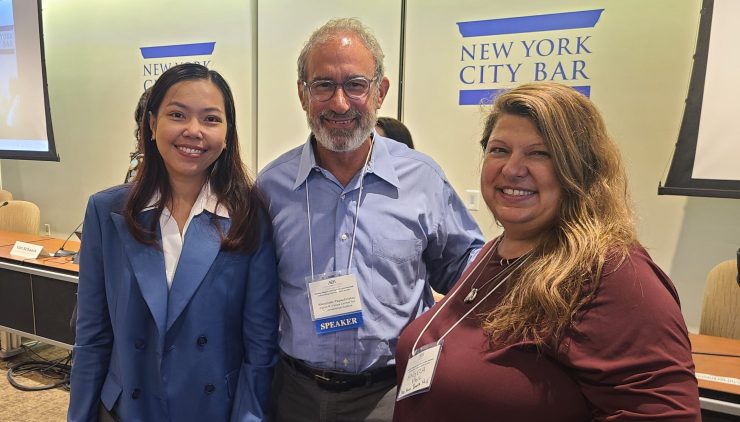 Vance Center Executive Director Alexander Papachristou at the ABA's Human Rights and Rule of Law Summit, September 6, 2023. Photo: Vance Center
Vance Center Executive Director Alexander Papachristou participated in a panel discussion as part of the American Bar Association's first Human Rights and Rule of Law Summit, hosted at the New York City Bar Association on September 6. During the panel, entitled "Defending Human Rights Defenders," Papachristou and the other speakers – Ginna Anderson, associate director of the ABA's Center for Human Rights; Mooya Nyaundi, Advocacy Director on US-Africa Foreign Policy at Open Society Foundations-US; and Sirikan Charoensiri, co-founder and deputy director of Thai Lawyers for Human Rights – outlined success stories and ongoing challenges to protecting and advocating for human rights defenders around the world, and responded to audience questions about how to keep moving forward. 
The speakers addressed some of the many challenges in the current landscape of human rights advocacy and defense, including rising authoritarianism, retaliation, and increasingly restrictive laws that limit the capacity of human rights defenders to do their work and of lawyers to defend them. Anderson noted that corruption poses a significant threat to rights defenders across different countries and sectors, as corrupt actors seek to protect themselves and retaliate against those who bring their crimes to light. Papachristou pointed to Reporters Shield and other strategies to support civil society organizations, media outlets and others sharing information in the public interest as examples of the kinds of creative solutions needed to support and protect these groups in the face of legal attacks. 
****  
Papachristou also participated in the biennial Global Investigative Journalism Conference, on September 19-22 in Gothenburg, Sweden, attended by thousands of journalists from more than 130 countries around the world. He spoke on the panel "Fighting Back Against SLAPPs and Other Legal Threats," along with panelists Carlos Gaio, executive director of Media Defence, and Bea Bodrogi, a European media lawyer and free speech advocate, and moderated by Kunda Dixit, a publisher and journalist from Nepal. Papachristou described the current environment of growing legal threat to investigative journalists and explained how Reporters Shield aims to address that threat through building a community of publishers and lawyers worldwide. Papachristou, Gaio, and Bedrogi also conducted a legal clinic addressing individual questions and concerns of participating journalists, moderated by Doreen Gay Weisenhaus, Director of the Media Law and Policy Initiative and Clinical Associate Professor at Northwestern University and Senior Lecturer at Pritzker School of Law. 
The GIJC afforded Papachristou the opportunity to meet with current clients of the Vance Center's Good Governance Program, including from its Exiled Media Initiative, which enjoys support from UNESCO's Global Media Defence Fund. He also met new clients from Afghanistan, Ethiopia, and Kyrgyzstan, among others. 
Reporters Shield is an independent nonprofit organization providing legal defense against defamation and related threats and claims, as well as other benefits, to public interest reporting organizations worldwide, with support from the United States Agency for International Development (USAID) and private and public foundations. 
Watch the full GIJC session: