Vance Center Celebrates 20 Years With Focus on Program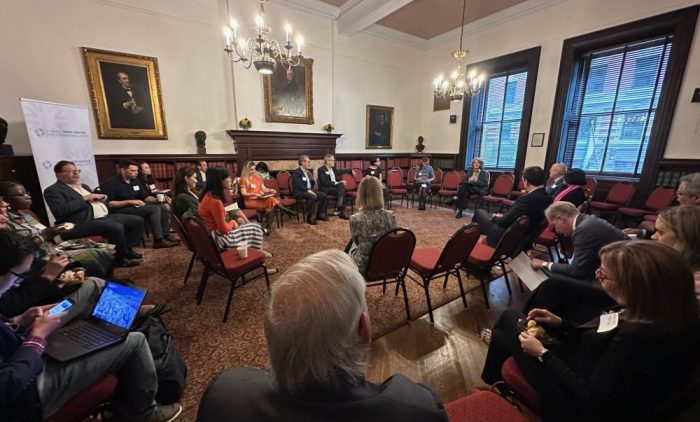 To recognize its 20th anniversary, the Vance Center convened a full-day programmatic event with more than 60 participants, representing US, Latin American, European, and African law firms, NGO clients and other stakeholders.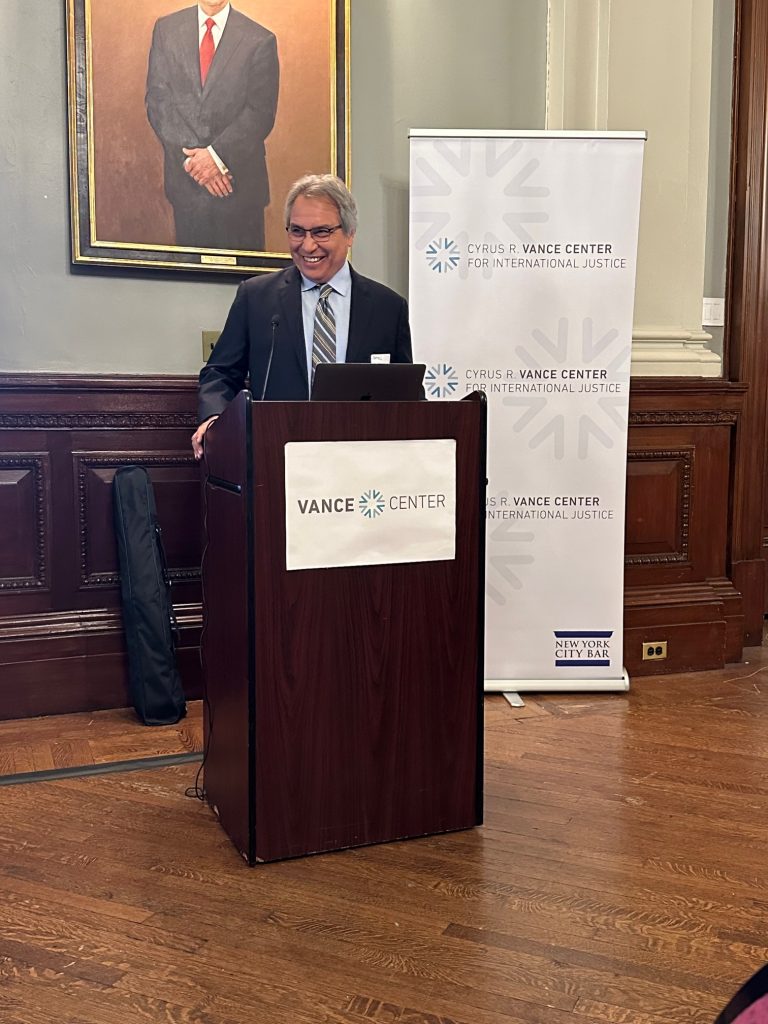 The event began with opening remarks by Professor S. James Anaya, former UN Special Rapporteur on the Rights of Indigenous Peoples and University of Colorado Law School University Distinguished Professor and Nicholas Doman Professor of International Law. He identified the three pillars that lawyers working on social justice should pursue in their work: poverty and inequality; threats to democracy; and the climate crisis. He also referred to his collaboration with the Vance Center over many years related to Indigenous peoples' rights and particularly the right to free, prior, and informed consent related to investment projects.
Vance Center Committee members, staff, and partners then engaged in roundtable discussions on subjects of the Vance Center's work.
-The Environment Program considered Pursuing the Right to a Healthy Environment, challenging participants to evaluate what comes next, now that the UN General Assembly has recognized the right to a healthy environment. Program Director Susan Kath described how the program supported UN Special Rapporteurs Prof. John Knox and Dr. David Boyd for 10 years with voluminous research. Janet Whittaker explained how she, along with the Clifford Chance legal team, expanded the scope of information available to the rapporteurs for the critical negotiations at the UN with the 193 Member States. Former Co-Executive Director of the Interamerican Association for Environmental Defense Astrid Puentes observed that a global coalition of activists, civil society, academics, and others were instrumental in building support for the right, and she shared her perspective on how it will be realized in Latin America. Maria Antonia Tigre illustrated how litigants are using the right in climate litigation, focusing on key recent cases in the Global South that have invoked the right to provide relief for the climate crisis.
-Latin America Policy Director Jaime Chavez Alor introduced the session Redressing Corruption in the Private and Public Sectors, at which former Guatemalan judge Erika Aifan stressed the importance of supporting the capacity and independence of anti-corruption authorities to investigate and prosecute corruption. Vance Center's Committee members Antonia Stolper, Todd Crider, and Ruti Smithline identified initiatives to strengthen anti-corruption implementation policies, including the role of companies and private practicing lawyers can have in these initiatives.
-Focusing on the Vance Center's Keep Families Together initiative, Committee members David Flechner and Marcia Maack, and Pro Bono Partnerships Director Jorge Escobedo, as well as representatives from the Safe Passage Project and Kids In Need of Defense (KIND), identified new forms of engagement between U.S. pro bono advocates assisting migrant children and families and pro bono lawyers abroad, including issues of family law and employment. The discussion also stressed the opportunity and need to scale capacity to address ongoing needs, including obtaining identity records and affidavits and serving process, among others.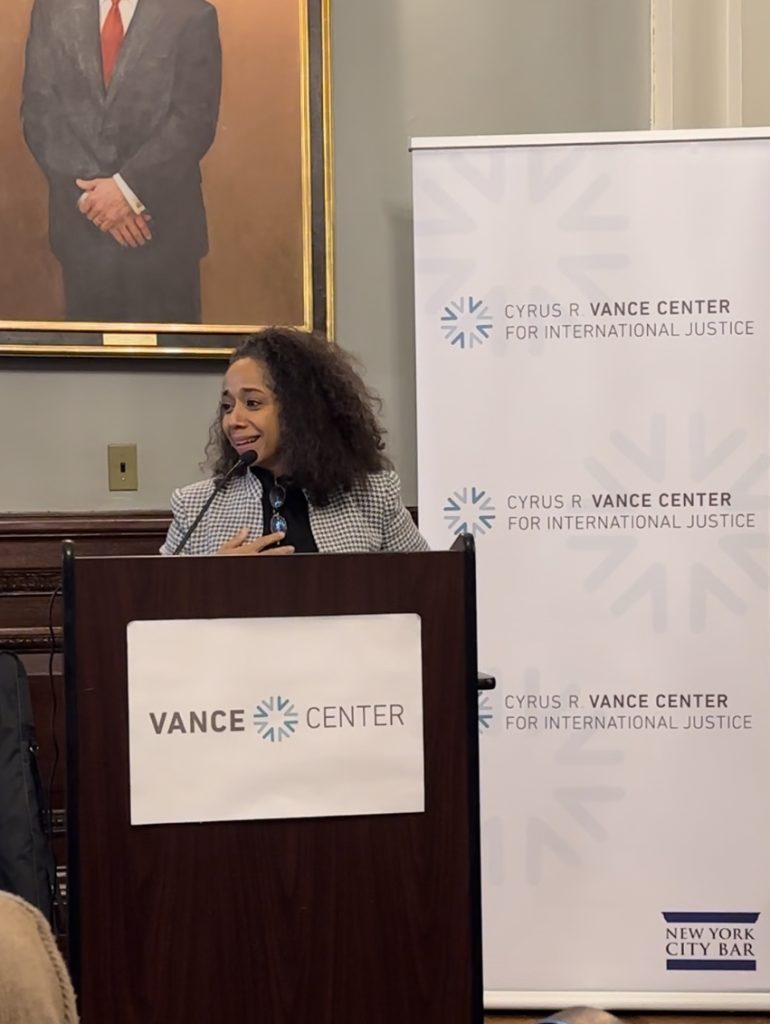 Over lunch, New York City Bar Association President Susan Kohlmann welcomed participants and reviewed the work of the Vance Center.  U.S. Ambassador to Spain and former Vance Center Committee member Julissa Reynoso made keynote remarks, outlining US foreign policy in key areas and acknowledging the importance of the Vance Center's work.  The roundtable discussions then resumed.
-On the topic Advancing Human Rights in Business, Parisa Elahi of Cisco, Douglass Cassel of King & Spaulding, Chris Albin-Lackey of the Columbia Center for Sustainable Investment, April Gu  of NYU Stern School of Business, and Vance Center Committee member Steve Nicklesburg, considered the drivers moving the business and human rights agenda, including the role of organizations like the Vance Center and of in-house and NGO lawyers in furthering both hard law and soft law in this area. All agreed that the past decade has seen significant progress, particularly in advances in the legal framework, but also in changes in attitudes from businesses and law firms. However, they indicated that the Business and Human Rights field involves more than hard law and trends in best practices also warrant attention.
-The Protecting and Promoting Journalism discussion featured press freedom expert Carlos Lauria, Deputy General Counsel at The New York Times Company David McCraw, and co-founding co-executive director of the Organized Crime and Corruption Reporting Project Drew Sullivan. The conversation centered on the rise in threats to the safety of journalists globally, as well as the increase in legal threats intended to silence journalists. Sullivan described a new initiative of OCCRP, with support from the Vance Center, to establish a defamation defense insurance program for investigative reporting organizations worldwide.
-The session Advancing in the Legl Profession Women and Others Traditionally Excluded Women and Others Traditionally Excluded addressed the impact of the Women in the Profession Program and the African Legal Fellows Program. Africa Legal Fellow alumna  Zodwa Velleman of Oceana, Antonia Stolper, Vance Center Africa Program Director Adaobi Egboka, Vance Center International Diversity Program Manager Karina Benzaquen, Marielle Garrigo of Medina Garrigo and Paula Samper of Gomez Pinzon agreed that the mentorship programs of WIP and the South African Legal Fellows Network have successfully supported young lawyers in Latin America and Africa and created opportunities for growth in the legal profession. The session ended with a commitment to expand the programs and incorporate allies, including women in NGOs and businesses, increase inter-generational discussions and, where necessary, include men in the program, as well as continue South-to-South exchanges.
If you would like to see more photos click here.