Vance Center Celebrates Key Founders
(Vance Center Committee Members | Photo Credit: Jay Marist)
The Vance Center commemorated its 20th anniversary by celebrating founders of the organization, particularly two key programs. More than 100 participants attended an evening event, representing law firms, corporate offices, and civil society organizations in New York and across the globe. The event came almost exactly twenty years after then New York City Bar President Evan A. Davis announced the launch of the Cyrus R. Vance Center for International Justice.
Todd Crider, Founding Chair of the Vance Center Committee, current member of the executive sub-committee, and Simpson Thacher partner opened and presided over the event. He recounted the Vance Center's growth over the past twenty years and recognized the many partners and supporters who attended the celebration.
(From Left: Edwin S. Maynard, Inosi Nyatta, Hon. Loretta E. Lynch, S. Todd Crider | Photo Credit Jay Marist)
Inosi Nyatta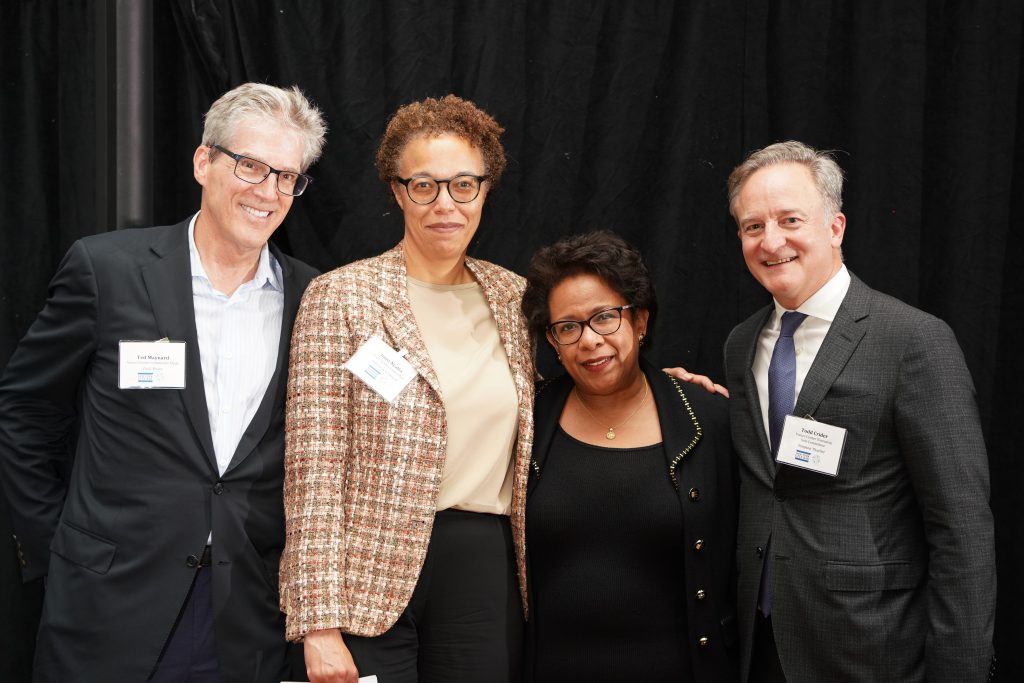 , chair of the Africa sub-committee, member of the executive sub-committee and Sullivan & Cromwell partner, introduced the first honorees, all former or emeritus members of the Vance Center Committee: Honorable Loretta E. Lynch, former U.S. Attorney General, former Vance Center Committee member, and Paul, Weiss partner; Michael A. Cooper (posthumously), former New York City Bar Association President and Sullivan & Cromwell partner; and Evan A. Davis, former New York City Bar President and Senior Counsel at Cleary Gottlieb, honored for their role in founding the African Legal Fellows Program.
Davis traveled to South Africa in 2002 to assess the legal profession in the aftermath of apartheid, finding that it had not provided sufficient opportunity to lawyers from historically disadvantaged backgrounds. The Vance Center launched the program to provide these lawyers the opportunity to work at New York law firms and companies for up to one year to gain international experience and contacts. Since then, more than 60 fellows from South Africa, Kenya, Nigeria, and this year Ethiopia have participated in the program and gone on to excel in the legal profession. Lynch and Cooper led the program's early development, traveling to South Africa to interview candidates.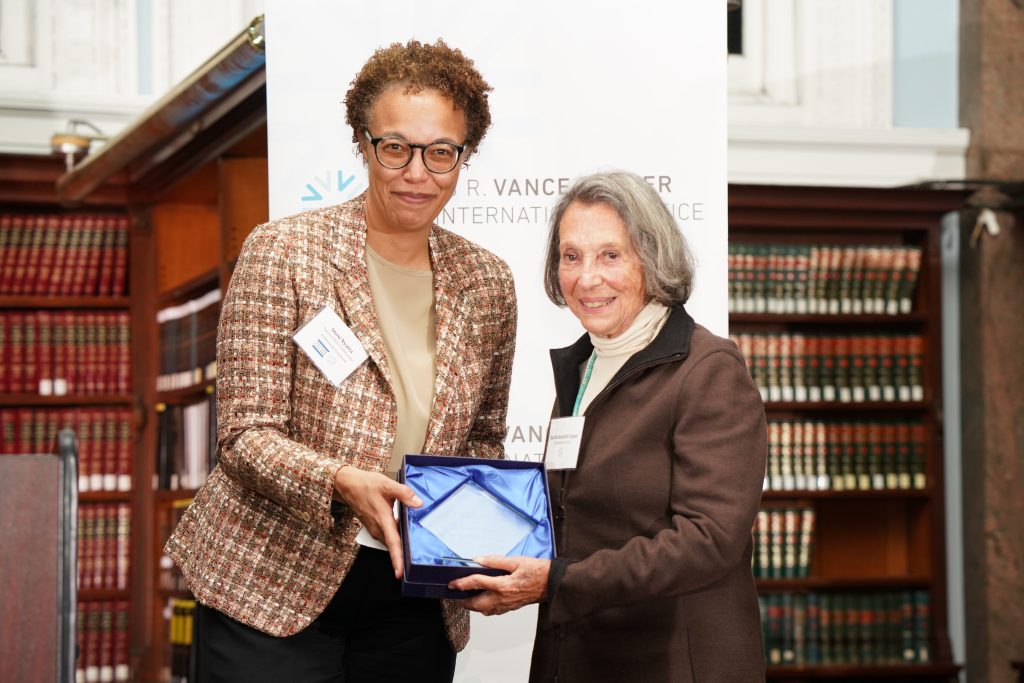 (From Left: Inosi Nyatta and Nan Rothschild Cooper | Photo Credit: Jay Marist)
Former Attorney General Lynch spoke on behalf of the honorees about the program, the commitment of the fellows, and her time as an early Vance Center Committee member. Nan Rothschild Cooper accepted the award on behalf of Michael Cooper and spoke of his vision of expanding lawyers' engagement in pro bono work and his long relationship with the Vance Center.
Ruti Smithline, member of the Women in the Profession Program international steering committee and the Vance Center Committee, as well as Morrison Foerster partner, introduced the next honorees, all members of the Vance Center Committee: Antonia E. Stolper, Vice Chair for Latin America, executive sub-committee member, and Of Counsel at Shearman & Sterling; Veronica Rodriguez, Latin America sub-committee co-chair and Executive Vice President and Associate General Counsel – Corporate and Mergers & Acquisitions at TelevisaUnivision; and Patricia Menéndez-Cambó, recently Deputy General Counsel of SoftBank Group International and Former General Counsel of SoftBank Latin America Fund and SB Opportunity Fund.
The Women in the Profession Program, launched in 2006, promotes the advancement of women in the legal profession across Latin America. Now with 19 national chapter in 18 countries in the region, it recently launched a chapter in Nigeria, its first on the African continent. The three honorees have helped to set up chapters in new countries, engaged their colleagues and networks in this work, organized and presented at national and regional convenings, and served as co-counsel on pro bono projects with national chapters.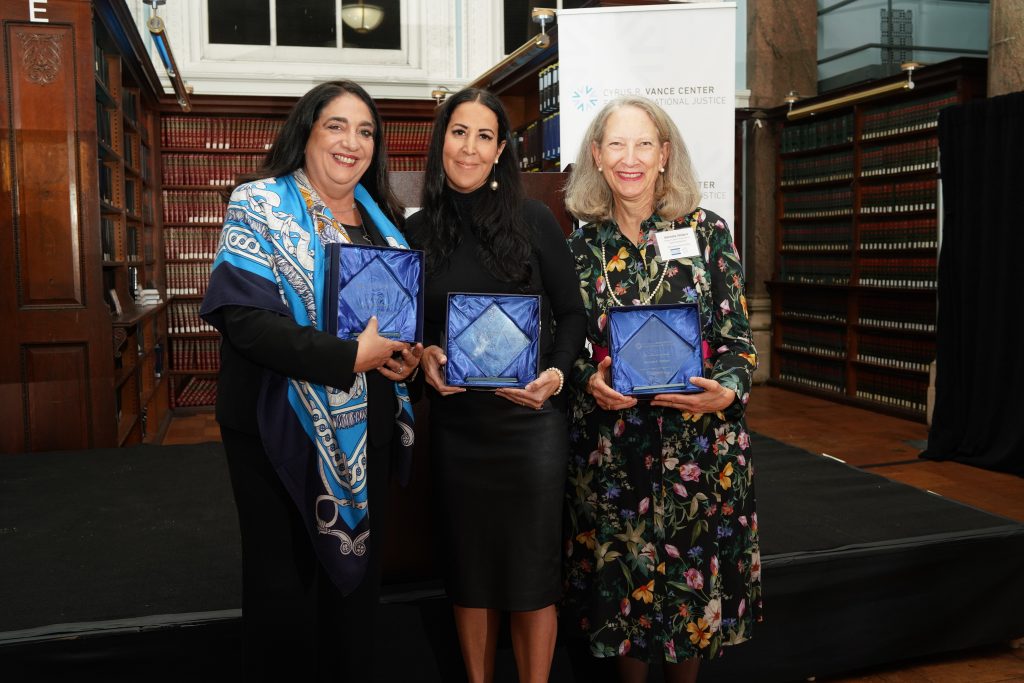 (From Left: Patricia Menendez Cambo, Veronica Rodriguez, and Antonia E. Stolper | Photo credit: Jay Marist)
Veronica Rodriguez spoke on behalf of the honorees about her engagement with the Vance Center and the program, including the impact of projects on which she has worked, as well as important influences in her career, including most recently at TelevisaUnivision and the law firm of Paul Hastings.
The event concluded with closing remarks by Ted Maynard, Vance Center Committee Executive Chair and Of Counsel at Paul, Weiss, and Alexander Papachristou, Vance Center Executive Director.
The Vance Center would like to thank all those who joined this celebration and also recognize and specially thank the event sponsors: at the global level, Paul Hastings LLP, Paul, Weiss, Rifkind, Wharton & Garrison LLP, Shearman & Sterling LLP, Sidley Austin LLP, Simpson Thacher & Bartlett LLP, Sullivan & Cromwell LLP, and TelevisaUnivision; at the national level, Clifford Chance LLP, Covington & Burling LLP, and Hogan Lovells US LLP.
We invite you to view more photos from the event, here.