Vance Center Continues Expansion of Keep Families Together Initiative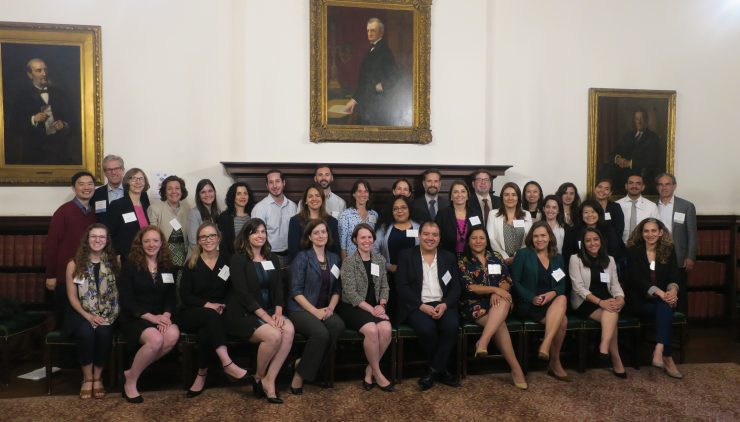 (Participants of the Keep Families Together workshop |Photo Credit: Rex Chen)
With support from the Tinker Foundation, the Vance Center convened a workshop to expand and strengthen the Keep Families Together initiative, providing pro bono legal support from Central American law firms to U.S. lawyers representing migrant families separated by the Trump Administration's zero-tolerance and other policies. 45 participants reviewed the achievements of, and challenges facing the initiative and considered how to strengthen its support of separated families and expand it to other legal areas. New York City Bar Association President Roger Maldonado welcomed the participants and Tinker Foundation President Caroline Kronley and Mayer Brown Director of Pro Bono Activities Marcia Maack summarized the discussion and thanked the participants.
Ahead of the workshop, Vance Center Director of Pro Bono Partnerships Jorge Escobedo traveled to Guatemala and El Salvador to encourage broader law firm involvement in the initiative.
He joined the monthly board meeting of Fundación Pro Bono Guatemala to review results and promote the workshop. In El Salvador, he met with law firms to present the initiative, review existing cases, and discussed the challenges in representing migrants. Escobedo also met with family law attorneys to explore their regular participation in the initiative, based on the needs of as families seeking U.S. immigration relief.
Keep Families Together now has connected sixteen Vance Center Committee law firms and non-profit immigration providers with ten law firms in seven countries in Latin America. These firms have assisted dozens of families with their immigration proceedings in the United States.
Special thanks to Marcia Maack and Mayer Brown LLP for hosting a networking reception immediately following the workshop.