Vance Center Honors Law Firms' Contributions to Keep Families Together
The Vance Center this month hosted the third annual awards ceremony honoring 11 law firms from Latin America for their important contributions to the Keep Families Together initiative.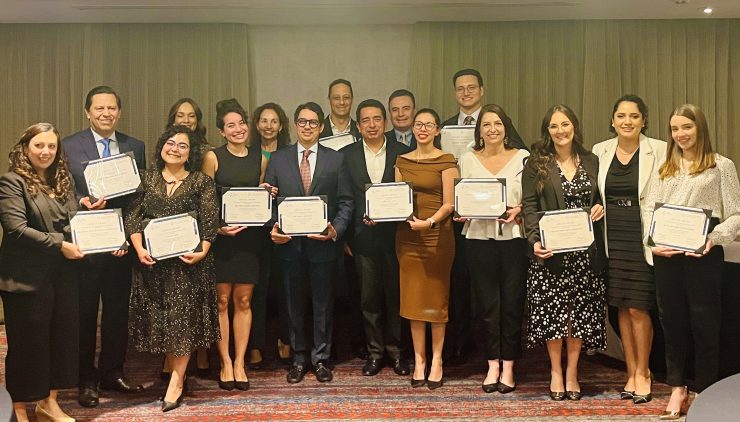 Representatives of awardee firms and Vance Center staff at the 2023 KFT Awards in Guatemala City. (Photo credit: Vance Center)
For the first time, the event took place in person, with a Zoom stream available for an international audience. Representatives of nine firms accepted their recognition in person at the ceremony in Guatemala City, with two additional firms receiving acknowledgement virtually.  
Since 2018, Keep Families Together (KFT) has provided pro bono co-counsel from the home countries of children and families seeking to immigrate in the United States but separated by the U.S. government's Zero Tolerance and other policies. With the participation of almost 150 entities around the world, KFT has identified pro bono co-counsel for more than 300 children and families from 27 countries to date. The initiative, which began as a collaboration between lawyers in the United States and Central America, has continued expanding on behalf of clients from other regions, including Sub-Saharan Africa and South Asia. 
This year's ceremony, hosted by Human Rights and Access to Justice Program staff Romina Canessa and Astrid Reyes, recognized the following law firms: 
Headrick Rizik Álvarez & Fernández 
The event, supported by a contribution from firm Lowenstein Sandler, also included remarks via Zoom by Vance Center Committee member Marcia Maack, director of pro bono activities at Mayer Brown, and Josie Guaman of Sanctuary for Families, an organization for which KFT provided co-counsel from clients' home countries. Claudia Murga, Executive Director of the Fundación Pro Bono Guatemala, offered the evening's closing remarks. 
In their brief speeches, the law firm and partner organization representatives described memorable cases from the past year, including updates from reunited families and examples of lawyers who made lengthy trips to personally track down missing documents and contacts. 
Guaman described the international network of lawyers who have "proven to be diligent, resourceful, and persistent," and highlighted one case in which a woman was able to reunite with her children in the United States after nearly a decade apart, thanks to the support of a KFT attorney.  
"The invaluable assistance you offer to our clients makes reunification like this possible," she said.  
Multiple lawyers accepting recognition on behalf of their firms also raised the importance of the program, in terms of personal impact and for the regional legal profession.  
"This work reminds us that we're lawyers for a particular reason: to help others obtain justice," said Ximena Tercero of Arias Law. 
Cristina Rodríguez from Consortium Legal thanked the Vance Center and the program for "giving us the opportunity to be a regional law firm. It's helped us meet people within the firm regionally, and work on things we don't normally get to work on." 
"The recognition that we're getting is a reflection of how much we believe in pro bono, and how small things really can have an impact and make a difference," said José Augusto (Joey) Toledo, Partner at Clarity Law and the Vice President of Fundación Pro Bono Guatemala. He recalled receiving a photo of a family that reunited after a family member was able to acquire a passport, thanks to KFT support. "This program gives us an opportunity to learn things we didn't know in law…it's a reflection of our purpose, to be of service."