Vance Center Trains on Public Interest Law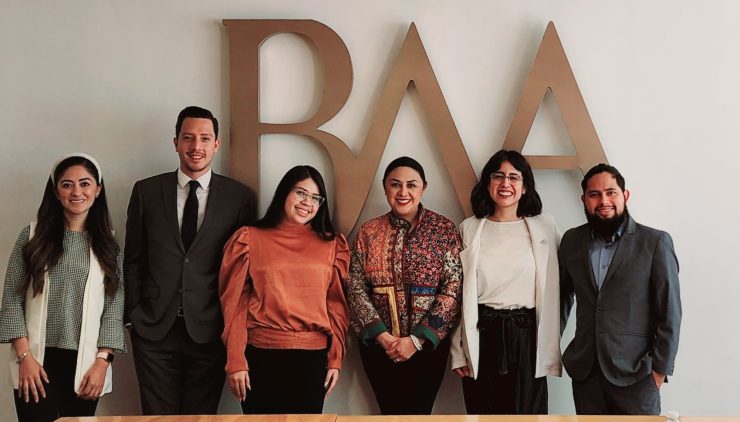 Along with partners Fundación Barra Mexicana, and Centro Mexicano Pro Bono, the Vance Center conducted a one-week training as part of the Access to Justice Practicum  to strengthen the skills of its participants ("Practitioners") to pursue public interest legal work.  Latin America Policy Director Jaime Chavez Alor organized the training, which took place in Mexico City over one week.
Practitioners Elisa Correa (Buenos Aires, Argentina), Andres Garay (Bogotá, Colombia) and Mariana Diaz (San Luis Potosí, Mexico), participated in various workshops with experts in pro bono legal services and access to justice to expand their knowledge and experience of public interest law. These were practical sessions in which the Practitioners had the opportunity to participate, exchange experiences, and ask experts about their practices and experiences.
As an introduction, Fundación Barra Mexicana  Executive Director Carla Aguilar, and Centro Mexicano Pro Bono Operations Manager Aremí Gonzalez presented the pro bono practice in Mexico and its current challenges. In this session, the Practitioners were also able to discuss the progress of their projects and the specific challenges regarding access to justice in their countries.
The program also included a workshop with the firm Sanchez Devanny on the attorney-client relationship, focused specifically on pro bono services. Gerardo Prado and Alberto Lascuraín of the firm provided practical advice on the projects of each of the Practitioners who asked about specific cases when clients are victims of human rights violations or are minors.
Other workshops included: Julio Hernández Barros, an expert on victims' rights; Gerardo Carrasco, an expert in strategic litigation; and Lila Gasca, pro bono director of Hogan Lovells Mexico. The Practitioners also conversed with students from the Autonomous Technological Institute of Mexico law school about the importance of pro bono work and different tools to strengthen access to justice.
Additionally, with the support of General Electric (GE), the Practitioners participated in a 13-hour workshop to strengthen oral communication skills.
The Access to Justice Practicum was launched in December 2020 to mitigate the access-to-justice gap in the Latin American legal profession. Outstanding recent law graduates work on one-year projects at members of the Pro Bono Network of the Americas, tackling systemic problems facing poor and marginalized communities. The Practicum aims to create a pipeline for public interest lawyering, providing participants with training and support to embark on life-long careers of service.
The Practicum received financial support from multinational companies and leading law firms. GE, through its Equity, Diversity & Inclusion Council of the Global Law & Policy function, led the sponsorships, bringing along Colombian law firm Brigard Urrutia,  Argentinian law firm Allende & Brea and Mexican law firm Sanchez Devanny.  JP Morgan Chase and Accenture in Argentina also provided support. See more information about the program here.
Watch a video about the Practicum and the practitioners experience in Mexico City: