Vance Center Addresses Women in Prison at African Commission Side Event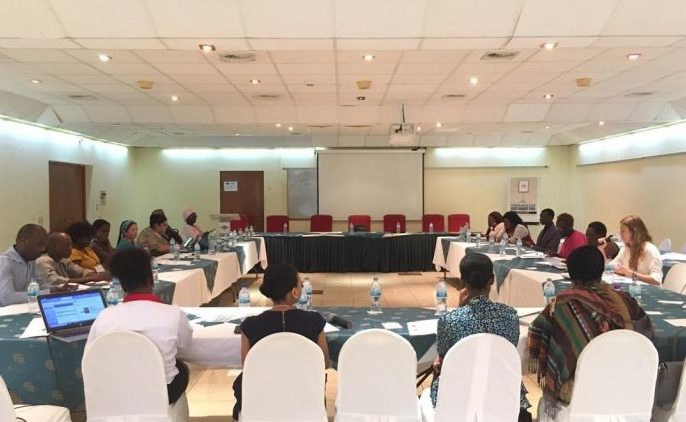 (Presentation of the Women in Prison Report in Banjul | Photo credit: Institute for Human Rights and Development in Africa (IHRDA))
The Vance Center's Human Rights and Access to Justice Program hosted a panel discussion at the Africa NGO Forum preceding the African Commission's ordinary session in Banjul, The Gambia, on "Women in Prison in Africa: What do we know?". The panel focused on what currently is known, and remains to be learned, about women's incarceration across sub-Saharan Africa and how NGOs can work together to address these gaps.
Panelists included five African NGOs working with the Vance Center on a global project on women in prison:
Gaye Sowe (IHRDA, The Gambia)
Jane Kuria (Faraja Foundation, Kenya)
Victor Mhango (CHREAA, Malawi)
Ogechi Ogu (PRAWA, Nigeria)
Naemy Sillayo (LHRC, Tanzania)
Isabella Cordua (Vance Center Consultant in Sierra Leone)
The Vance Center organized the event to generate visibility of the issue of women in prison within the African human rights system and to inform the broader human rights community and the African legal profession of the particular legal and policy challenges posed by this issue.
Panelists noted general awareness in governments of regional and international standards on the treatment of women in prison, but voiced concern at the inadequate implementation of those standards. They highlighted the widespread lack of research focusing specifically on women in prison, limiting knowledge and capacity. Speakers also highlighted the need to integrate formerly incarcerated women in the work on behalf of women in prison.
Janet Sallah-Njie, former Solicitor-General of The Gambia, renowned women's rights advocate, and founder and first president of the Female Lawyers Association-The Gambia (FLAG) joined as special guest. She observed that the conditions of women in prison are a reflection of larger societal attitudes towards women generally. She reflected on how the me too movement, which has rippled across the globe and also found echo in Africa, has failed to generate attention or compassion for women in prison. She also called attention to the need for legal reform in order to achieve successful reintegration and rehabilitation of women who have served prison sentences, lamenting that too many laws currently prohibit women with criminal records from accessing certain jobs.
The event marked the formal presentation of the Vance Center's report "Women in Prison: Africa Regional Initiative". Developed in collaboration with NGOs and law firms in Nigeria, The Gambia, Malawi, Kenya and Tanzania, the report surveys what is currently known about women's incarceration in these five African countries, both in law and in practice. It provides a detailed analysis of these countries' compliance with domestic, regional, and international standards on women's incarceration, including the United Nations Rules for the Treatment of Women Prisoners and Non-custodial Measures for Women Offenders ("Bangkok Rules"). Allen & Overy and Bank of NY Mellon supported the Vance Center in drafting the report which they designed and produced. To access a copy of the report click here:
The panel and the report are part of a wider three-year project that the Vance Center's Human Rights Program is pursuing to promote global collaboration on improving conditions of women's imprisonment. The Women in Prison Project convenes women prisoners' rights advocates from the Americas, Africa, and Asia to 1) share information about conditions of women's imprisonment in their respective countries or regions; and 2) build capacity for improved monitoring and reporting of conditions in women's prisons.
Examples of our initiatives under the Women in Prison Project include: