Evaluación Anticorrupción en Latinoamérica 2021-2022
Latin America Anti-Corruption Assessment 2021-2022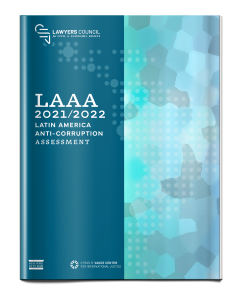 The  Latin American Anti-Corruption Assessment 2021-2022 is the second edition of a regional study for seventeen countries that maps legal efforts to prevent and combat corruption.
Unlike efforts made by other studies that focus on measuring corruption or the perception of corruption, this study uses legal practice as a basis for making a diagnosis of legislation, authorities and implementation to prevent, punish and combat corruption. This document captures the views of anti-corruption practitioners in various sectors, including law firms, companies, academia, civil society organizations, human rights defenders, among others.
Using information obtained from members of the Lawyers Council for Civil and Economic Rights, allied law firms and the legal community of participating countries, the final rating was calculated on a scale of zero (0) to ten (10), where zero is the lowest rating and ten is the highest rating.