Vance Center Participates in International Mission to Guatemala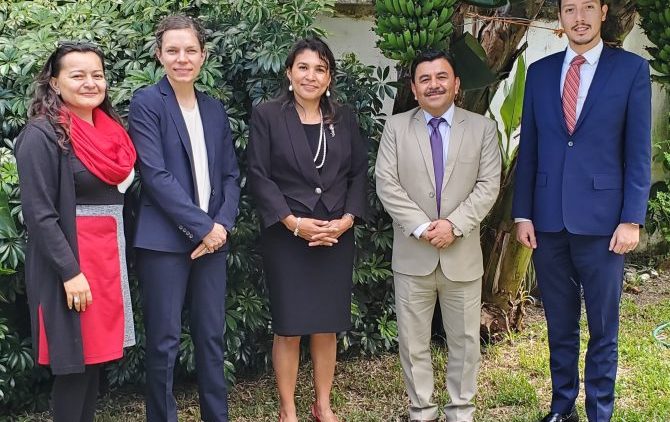 (ILAC Delegation with the Bufete Juridico de Derechos Humanos | Photo Credit: Vance Center)
Vance Center Latin America Policy Manager Jaime Chavez Alor joined representatives from the International Legal Assistance Consortium and The Law Society of England and Wales, in a follow-up mission to Guatemala, based on  ILAC's May 2018 Rule of Law Assessment Report on Guatemala to examine the impact of the termination of the Commission Against Impunity in Guatemala (CICIG) on the justice system and more broadly on the rule of law in that country.
The United Nations and Guatemala signed a treaty-level agreement in December 2006, setting up CICIG as an independent body to support the Guatemalan government in the investigation of politically sensitive and difficult cases, and strengthen national judicial institutions to continue to confront organized crime and high-level corruption. CICIG supported more than 100 cases before national courts, identified more than 60 complex criminal structures, obtained more than 300 convictions (including of the then-serving president and vice-president), and promoted more than 30 legal reforms.  However, in September 2019, CICIG's mandated ended when Guatemala's president declined to seek its renewal.
Participants in the mission met over a week with 26 organizations, interviewing 41 people from a wide range of stakeholders, including Constitutional Court magistrates and judges (including prosecutors and members of the High- Risk Tribunals), the Office of the UN High Commissioner for Human Rights, the International Commission of Jurists, the Guatemalan Association of Judges for Integrity, Foundation for the Development of Guatemala, Movimiento Pro Justicia, Accion Ciudadana, Justicia Ya, Unit for the Protection of Human Rights Defenders in Guatemala, the Human Rights Attorney General, the Office of the Special Prosecutor Against Impunity, Fundacion Pro Bono Guatemala, and individual Guatemalan lawyers, among others.
ILAC will publish a report and recommendations in 2020.
This undertaking continues the Vance Center's previous and ongoing work in Guatemala, assessing judicial independence in 2013 and 2014, a Lawyers Council Delegation supporting judicial appointments, examining the judicial nominations process, and training Judges.
ILAC, a consortium of more than 50 legal organizations from all over the world, brings together their collective expertise to help rebuild justice systems in countries transitioning from conflict to peace and democracy. The Vance Center has participated since 2013, and Programs Director Marie-Claude Jean-Baptiste serves on ILAC's advisory council.