Vance Center Recognizes Law Firms' Achievements at Michael Cooper Celebration of International Pro Bono Excellence
This month the Vance Center hosted its eighth annual Celebration of International Pro Bono Excellence, recognizing the pro bono achievements of six law firms and giving special recognition to Vance Center Committee member Janet Whittaker of Clifford Chance.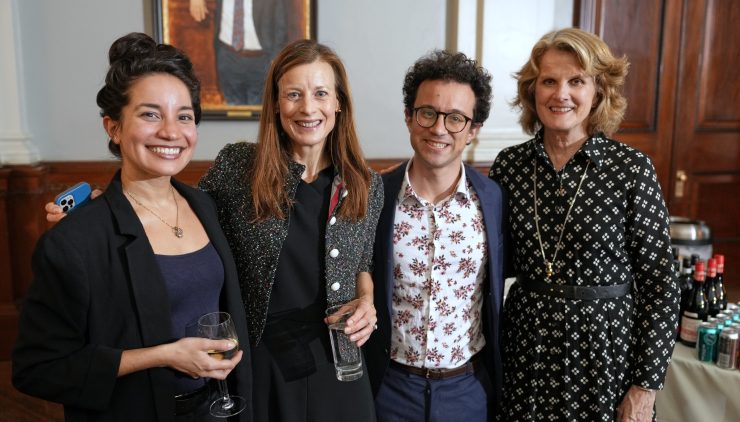 Vance Center staffers Astrid Reyes, Sam Bookman and Susan Kath, and Janet Whittaker, at the 2023 Michael Cooper Celebration of International Pro Bono Excellence. (Photo credit: Hector Caminero)
More than 50 Vance Center staffers, Committee members, representatives of law firms receiving recognition and other members of the Vance Center network gathered at the New York City Bar Association to acknowledge the noteworthy contributions of some partner law firms and their pro bono teams. 
City Bar President Susan Kohlmann gave brief opening remarks, followed by Vance Center Executive Director Alexander Papachristou, who offered a special recognition of outgoing Vance Center Executive Committee chair Ted Maynard for his contributions to the Committee and commitment to the Vance Center's work. 
The Environment Program opened recognition of the law firms with an introduction by Program Director Susan Kath, followed by Program Advisor Nathalya Desterro, who recognized Covington for its work on a project on addressing environmental damage through reparations to reduce harmful fishing subsidies in Latin America on behalf of the Inter-American Association for Environmental Defense (AIDA). Covington Special Counsel and Vance Center Committee member Tom Plotkin accepted the recognition on the firm's behalf. Senior Staff Attorney Sam Bookman then recognized Clifford Chance for the firm's extensive global research for a project on behalf of Terre des Hommes on protecting children's rights under international law in the context of climate change. Clifford Chance Senior Counsel and Vance Center Committee member Janet Whittaker accepted the recognition and introduced a short video in which some of the project's participating lawyers spoke about the significance of their work and their gratitude for the opportunity to contribute to the project. 
Latin America Policy Program Director Jaime Chávez Alor on behalf of the Good Governance Program recognized two firms for their work on projects related to judicial independence in Latin America. Debevoise & Plimpton partner and Vance Center Committee member Dietmar Prager accepted the recognition for the firm's research on the right of judges to freedom of expression, on behalf of the Vance Center's Latin America Policy Program. Antonia Stolper, Of Counsel at Shearman & Sterling and Vance Center Committee Vice Chair for Latin America, accepted the recognition of the firm's work on judiciary councils in Latin America on behalf of the Guatemalan Association of Judges for Integrity. 
Rounding out the Good Governance Program section of the evening, Papachristou recognized Weil for several projects related to freedom of expression and defense against defamation claims on behalf of the Organized Crime and Corruption Reporting Project (OCCRP). Weil Pro Bono Committee Global Co-Chair Benjamin Marks and partner Mark Perry accepted the recognition on the firm's behalf. 
The law firm recognitions concluded with the Human Rights and Access to Justice Program. Staff Attorney Romina Canessa recognized Brazilian firm Mattos Filho for its participation in a project for Instituto Vladimir Herzog on ensuring accountability for grave human rights violations in Brazil. New York-based partner Amadeu Ribeiro accepted the recognition.  
Following the firms, the Vance Center offered a special recognition of Janet Whittaker for her leadership and a decade of exceptional work with the Environment Program. Kath and Bookman praised Whittaker's outstanding commitment to environmental law projects and ability to lead international teams on in-depth projects that have had notable global impact. Whittaker thanked the Vance Center for the recognition and spoke about the personal and professional significance of the work for her and her colleagues.  
This year's edition marked the first time the annual event bore the name of Michael Cooper, in honor of a founding Vance Center Committee member who, as president of the New York City Bar Association pioneered the internationalization of pro bono legal service. 
See more photos from the 2023 celebration here.