Vance Center Celebrates 20 Years of Groundbreaking Work in Sub-Saharan Africa
The Vance Center concluded its global series of 20th anniversary celebrations with a multi-day event in Johannesburg, South Africa.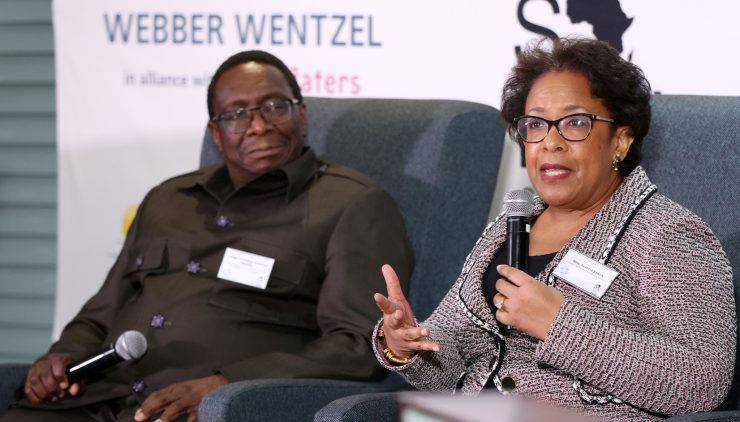 Keynote conversation between Justice Dunstan Mlambo, Judge President of the Gauteng Division of the High Court of South Africa, and former U.S. Attorney General Hon. Loretta Lynch, October 11, 2023. Photo: Abbey Sebetha/BakonePix
The event, "The Lawyer as Rule-of-Law Activist: Activating the Next Generation," brought together more than 200 leading legal practitioners, African Legal Fellows Program alumni, advocates, academics, and others from across the continent for a celebration of the Vance Center's anniversary and 20 years of the flagship African Legal Fellows Program. 
This celebration concluded a yearlong series of anniversary events, beginning in New York City in October 2022, followed by a conference in Bogotá, Colombia, in March 2023.   
The official festivities kicked off with an opening reception on October 11 at the offices of Webber Wentzel in Sandton, Johannesburg, featuring a keynote conversation between Justice Dunstan Mlambo, Judge President of the Gauteng Division of the High Court of South Africa, and former U.S. Attorney General Hon. Loretta Lynch, partner at Paul, Weiss and former Vance Center Committee member who has provided key support and guidance to the ALF Program since its inception.  
Webber Wentzel partner Christo Els began by welcoming attendees to the event and the firm's offices. Els was followed by Hon. George Daniels, senior Federal Judge, United States District Court, Southern District of New York, and Vance Center Committee member. In his opening remarks, Judge Daniels reflected on his previous visit to South Africa for the ALF Program's 10th anniversary and highlighted the importance of the program and its impact on the participating lawyers, firms and the profession. Attendees also heard from Judge Taswell Papier of the Western Cape Division of the High Court, who congratulated the Program and the Vance Center in a video address. 
During the keynote conversation, moderated by Inosi Nyatta, chair of the Vance Center Committee's Africa sub-committee and Sullivan & Cromwell partner, and Tholinhlanhla Gcabashe, co-head of M&A at Bowmans and an ALF Program alum, Lynch and Mlambo offered perspectives on historic challenges and new opportunities for Black legal professionals and the path toward access to justice in South Africa. Judge President Mlambo reflected on his experiences as a member of the judiciary and as chair of Legal Aid South Africa, and the ongoing need for expanding access to justice and providing legal aid to individuals who are unable to afford or otherwise access those services. Lynch recalled the initial goals of the African Legal Fellows Program, reflected on the program's growth and success over the last two decades, and drew parallels to the context for Black legal professionals in other countries, including the United States. 
Motivated by a visit to South Africa by Evan A. Davis, then President of the New York City Bar Association, the Vance Center in 2002 launched the Legal Fellows program to create an opportunity for South African lawyers from historically disadvantaged backgrounds to work at New York law firms and companies for up to one year to gain international experience and contacts. Since then, more than 60 fellows from South Africa, Kenya, Nigeria, and Ethiopia have participated in the program as an important step in their legal development and careers.  
The evening discussion concluded with thanks from Vance Center Africa Program Director Adaobi Egboka, Executive Director Alexander Papachristou, and South African Legal Fellows Alumni Network chairperson Nontuthuzelo Made, followed by a reception, networking and musical performance.  
On October 12, the Vance Center convened a full-day programmatic event featuring distinguished members of the judiciary, advocates, international law firm partners representing more than a dozen firms, and many others from across Africa.  
The morning began with welcome remarks from Ted Maynard, Of Counsel at Paul, Weiss and outgoing Vance Center Committee chair, and Meluleki Nzimande, Partner at Webber Wentzel and ALF Program alum.  
In a keynote address, Justice Bernard Makgabo Ngoepe, Tax Ombudsman of South Africa and former Judge President of the Gauteng Division of the High Court, spoke about the steep challenges still preventing pro bono work in South Africa and around the world, and the moral obligation of legal professionals to use their skills and expertise to address injustice.  
"My experience as a law practitioner is that the law can be crafted and purposed to oppress and inflict great suffering; yet, on the other hand, it can be crafted and purposed to ameliorate, or even avoid, oppression or suffering," noted Justice Ngoepe. "The law is a tool that can be used either way. Therefore, even under a maze of oppressive legislation, a creative Rule of Law activist lawyer can still find a way to help." 
The day's first panel discussion, "The Role of the Private Sector and the Legal Profession in Securing the Rule of Law and Combatting Corruption," moderated by Antonia E. Stolper, Of Counsel at Shearman & Sterling and Vance Center Committee Vice Chair for Latin America, and Ope Osinubi, Senior Associate at Clifford Chance and ALF program alum, delved into how the private sector and legal practitioners can coordinate and expand efforts to strengthen the rule of law and combat corruption. Panelists Ibi Ogunbiyi, Partner at Olaniwun Ajayi LP in Nigeria; Lindi Atieno Vundla, Senior Corporate Counsel, Head of Legal for Sub-Saharan Africa at Amazon and ALF alum; Steven Powell, Head of the Forensics practice at ENSafrica; Ayanda Ngubo, Partner at Webber Wentzel; and Tshepo Legodi, Divisional Executive: Legal & Compliance at Industrial Development Corporation (IDC), offered insight from their careers as law firm partners, in-house counsel for private companies, and investigators, and next steps for cross-sector collaboration to fight corruption. 
The second panel, "Pro Bono Practice in Africa: Challenges and Prospects," brought together a diverse set of speakers representing various countries to discuss the current state and future of pro bono work across the continent, guided by moderators Ted Maynard and Adaobi Egboka. Assunta Ndami, Team Lead at The Dispute Resolution Hub and one of the leaders of the recent launch of the Pro Bono Institute of Kenya, the country's first clearinghouse, outlined the process of creating the PBI-K and what comes next for pro bono work in Kenya. Funmi Ayeni, Executive Director of the Public Interest Law Partnership in Nigeria, spoke about the growing space and remaining barriers to engaging lawyers on pro bono work in Nigeria. Fatima Laher, Head of Pro Bono at Bowmans and Odette Geldenhuys, Partner at Webber Wentzel provided their perspectives as experienced law firm practitioners who have watched the pro bono landscape in South Africa develop and evolve over the past years.  
After lunch, ALF Program alum Rorisang Mzozoyana gave a keynote address on the "Role of Young Lawyers as Rule of Law Activists." Mzozoyana, who is also a mentor in the Vance Center's Advancing Women in the Workplace program, which aims to support women of color in accessing leadership roles within the legal profession in South Africa, shared her experiences as a young professional, reflected on the energy and idealism that young lawyers bring to their work, and offered suggestions for the next generation of lawyers to step into their role as activists. 
Mzozoyana's keynote offered a seamless transition into the day's third panel, "African Women in the Legal Profession: Advancing Opportunities and Addressing Challenges," moderated by Nyatta and Siviwe Anthony, GM: Commercial Legal at MTN Group and an ALF Program alum. The panel's speakers – Ursula Fikelepi, Consultant at PPM Attorneys; Wangui Kaniaru, Partner at Anjarwalla & Khanna (ALN Kenya) and Co-Chair of the Kenyan Women in the Profession (WIP) chapter; Lulu Ng'wanakilala, Chief Executive Officer of Legal Services Facility in Tanzania; and Lerisha (Lee) Naidu, Managing Partner at Baker McKenzie- engaged in a thoughtful, insightful, and honest discussion of historic and ongoing challenges for women in the legal profession, the importance of authenticity and confidence in bringing unique voices and perspectives to the workplace, and innovating new models for effective leadership in traditionally male-dominated spaces. 
The final panel, "An Organized Bar as a Bulwark for a Democratic and Pluralist Society," addressed the role of bar associations in upholding democratic norms and the rule of law, moderated by Lorraine McGowen, Partner at Orrick and Vance Center Committee Co-Chair, and Masechaba Makgolane, Head of Legal at Thungela. Panelists Donald Deya, Chief Executive Officer of the Pan African Lawyers Union; Sheila Boston, Partner at Arnold & Porter and former President of the New York City Bar Association; Stanley Nyamanhindi, Chief Executive Officer of SADC Lawyers' Association; Kaajal Ramjathan-Keogh, Director of the Africa Regional Programme at the International Commission of Jurists; and Kameshni Pillay, Commissioner on the Judicial Services Commission and member of the Legal Practice Council, offered diverse perspectives on how bar associations can – and should – engage with their members, other sectors of the legal profession, and human rights defenders and advocates to push back against the erosion of democracy. 
Throughout the events, attendees heard from ALF Program alumni, who shared their experiences in the program and the impact on their careers in short videos. All of the videos shown during the celebration are available on the Vance Center YouTube channel.
In addition to the conference and keynote events, Vance Center Committee members and other international attendees held a series of meetings with South African and regional civil society organizations, law firms and individuals. The agenda on October 11 and 13 included meetings with ProBono.Org, Legal Resources Centre, the Nelson Mandela Foundation, Cliffe Dekker Hofmyer (CDH), Poswa Incorporated, Mapongwana Attorneys, Buthelezi Vilakazi Inc., Bowmans, ENSAfrica, SADC Lawyers' Association and Law Society of South Africa. 
Also on October 13, Vance Center representatives participated in a roundtable hosted by the U.S. Embassy with alumni of the Mandela Washington Fellowship, Power Africa/YALI Women Fellowship, and International Visitor Leadership Program (IVLP).  
The multi-day celebration concluded with a reception at the residence of the U.S. Ambassador to South Africa in Pretoria. Ambassador Reuben E. Brigety II welcomed attendees to South Africa and congratulated the Vance Center and ALF Program on 20 successful years, followed by remarks from Loretta Lynch on the impact of the program in South Africa, the U.S., and beyond, and the importance of continuing such partnerships in the future. 
The Vance Center is grateful for the generous support of core sponsor Webber Wentzel, sustaining sponsors Bowmans and Industrial Development Corporation (IDC), and Baker McKenzie, and to Heineken for providing beverages for the October 11 reception. 
More photos from the event are available on the Vance Center's Flickr account. Photos from the reception at the ambassador's residence can be found here.