Vance Center Leads Discussion on Global Trends in Women's Incarceration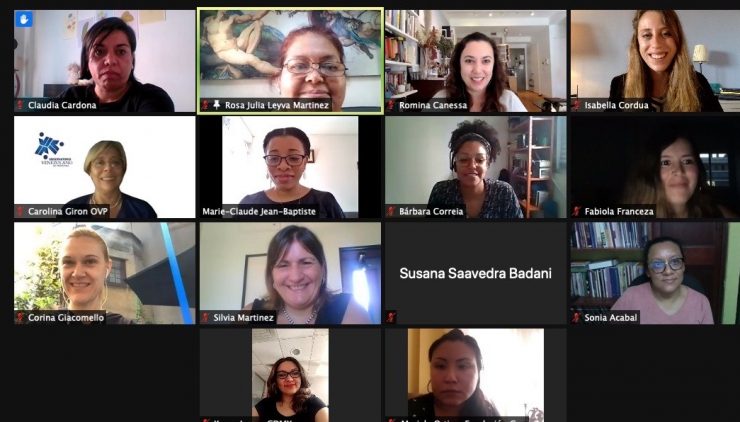 The Vance Center organized two online workshops with members of its Women in Prison Network (WIP), focused on how a recent study of the causes and consequences of women's incarceration in Sierra Leone applies to other countries in Africa and Latin America. The Vance Center conducted the study jointly with AdvocAid in Sierra Leone. Network members also discussed how they plan to work together to pursue regional advocacy initiatives to address the issues identified in the study.
The first-ever global network of advocates for women in prison, WIP operates as an online platform.  It came to be during a groundbreaking international conference in Bogota, Colombia, convened by the Vance Center and Penal Reform International in 2018. The Network currently includes 45 individual advocates, including 9 formerly incarcerated women, and 34 organizations from a total of 21 countries, representing every continent.
The first workshop  "Lessons from Sierra Leone: Regional Similarities and Differences Among Women in Prison in Africa" brought together organizations working across Africa, including Network members from Nigeria (PRAWA), Kenya (Clean Start and Faraja Foundation), Sierra Leone (AdvocAid), The Gambia (Institute for Human Rights and Development in Africa), Malawi (Centre for Human Rights Education, Advice and Assistance), and Tanzania (Legal and Human Rights Center), as well as the United States (WOLA), and the United Kingdom (Individual Advocate).
The workshop revealed that, in spite of contextual differences, women's imprisonment follows similar trends across the region. For example, participants agreed that women in prison in their countries are usually economically disadvantaged young women with caretaking responsibilities, many of whom have committed economic or petty offences to meet their families' basic needs. Illiteracy and the inability to obtain legal representation were common reasons why women are often unable to access justice. Many advocates noted that the current COVID-19 pandemic has exacerbated these issues.
All advocates agreed that their countries make excessive use of pre-trial detention. While in certain countries such as Malawi and Kenya, members reported some degree of improvement in the government's provision of alternatives to detention, others said that their countries have not progressed.
The Special Rapporteur on Prisons and Conditions of Detention, African Commission on Human and Peoples´ Rights, Commissioner Maria Teresa Manuela, participated in the workshop and delivered closing remarks, recognizing the importance of the work of the Women in Prison Network. Commissioner Manuela expressed the African Commission's openness to future collaboration with the Network.
"The experiences are so extensive that all African women must join hands in this cause. In this regard, the African Commission on Human and Peoples´ Rights is willing to bridge the gap and allow for this interaction."
The second workshop, "Lecciones de Sierra Leona: similitudes y diferencias regionales entre las mujeres en prisión en América Latina", convened organizations from several countries in Latin America, including Venezuela (Observatorio Venezolano de Prisiones), Bolivia (Fundación Construir), Colombia (Corporación Humanas), Brazil (Mattos Filho Advogados), Mexico (Instituto de Investigaciones Jurídicas de la Universidad Autónoma de Chiapas/Equis: Justice for Women and Individual Advocates), Argentina (Prison Commission), Peru (Instituto de Defensa Legal), Guatemala (Red de No Violencia Contra las Mujeres), and a representative of the Inter-American Commission on Human Rights.
Interestingly, advocates from Latin America also stated that women imprisoned across Latin America share many characteristics with those detained in Sierra Leone. Unlike in most African countries, however, members of the Network noted that the vast majority of women in prison in their countries have been arrested for drug offences.
Advocates from the Network reported that a high percentage of imprisoned women in Latin America, much like in Africa, have suffered violence prior to entering prison and have in some cases experienced re-traumatization at the hands of police and prison officers. Some noted that without appropriate support, these women on leaving prison often are forced to return to their abusers. One Network member reminded the rest of the participants of the importance of recognizing the intersectional discrimination that trans women face when they enter the criminal justice system.
Advocates at the workshop also discussed the consequences of women's detention and noted the reluctance of many countries to adopt fully appropriate alternatives to custodial measures, especially ones that are gender specific. Some noted, in fact, that measures such as house arrests are often impractical for women with caretaking responsibilities.
These workshops are a safe space for members to discuss the difficulties they have encountered in carrying out research and advocacy on women's imprisonment in their countries and to share their best practices and lessons learned. Both workshops highlighted how prevalent and similar the issues affecting women in prison are globally. They also afforded an opportunity for fruitful discussions on ways in which the Network can further collaborate to address these issues in the future.
The workshops are part of the Women in Prison Project, launched in 2017 by the Vance Center's Human Rights and Access to Justice Program  to promote global collaboration on improving conditions of women's imprisonment. Examples of initiatives under the Project include:
●   Convening in Bogota, Colombia, the first international conference of women prisoners' rights advocates. The Vance Center, in partnership with Penal Reform International, brought together 49 advocates from 23 countries, including nine formerly incarcerated women. Out of this conference was created the first-ever global network of advocates for women prisoners: the Women in Prison Network.
●     Conducting a year-long study in partnership with NGO AdvocAid on the causes and consequences of women's imprisonment in Sierra Leone. Following the study, the Vance Center and AdvocAid facilitated a series of training workshops for police officers in Sierra Leone and jointly submitted a contribution to Sierra Leone's May 2021 Universal Periodic Review (UPR). The submission focused on human rights concerns with regards to women in prison in Sierra Leone, with a focus on issues such as prison conditions, unfair police practices, arbitrary arrests, petty offences, violence against women, and the death penalty.
●     The report "Women in Prison: Africa Regional Initiative", developed in collaboration with NGOs and law firms in Nigeria, The Gambia, Malawi, Kenya, and Tanzania and launched at a panel discussion at the Africa NGO Forum preceding the African Commission's ordinary session in Banjul, The Gambia in the Fall of 2019. The report surveys what is currently known about women's incarceration in these five African countries, both in law and practice. It provides a detailed analysis of these countries' compliance with domestic, regional, and international standards on women's incarceration.
●     Mobilizing the Women in Prison Network and conducting research on government responses to the Covid-19 pandemic in detention centers for women in the Global South. The research focused on six key areas: healthcare, prison protocols and rules, children in prison with their mothers, rehabilitation and release, the criminal justice system, and prison staff and covered 17 Global South countries. Based on the assessment, the Network submitted open letters to the African Commission on Human and People´s Rights and the Inter-American Commission on Human Rights urging states to ensure that COVID-19 responses consider the unique needs of women in prison.
●     A social media campaign to commemorate the 10th anniversary of the United Nations Rules for the Treatment of Women Prisoners and Non-Custodial Measures for Women Offenders (The Bangkok Rules). The social media campaign raised awareness of the Bangkok Rules while showcasing the work of members of the Women in Prison Network. These advocates, often formerly incarcerated women themselves, have devoted their lives to improving conditions for women in prison all over the world.
●     Submitting a Written Opinion to the Inter-American Court of Human Rights addressing the request from the Inter-American Commission on Human Rights for an Advisory Opinion related to "Differentiated Approaches to Persons Deprived of Liberty". In the Written Opinion, the Vance Center and the Women in Prison Network analyzed best practices adopted by some States in relation to women in prison who are pregnant, postpartum, or lactating, as well as girls and boys who live with their mothers in detention. The analysis also includes how such States have interpreted the rights to equality and to live free from all forms of discrimination within the prison context.